Cleveland EMS commissioner becomes assistant director of emergency operations for city
Safety Director Karrie Howard: Nicole Carlton "has proven herself an effective leader during several major events within the city. Carlton is a dedicated public servant"
---
By Courtney Astolfi
cleveland.com
CLEVELAND — Mayor Justin Bibb has moved Cleveland EMS Commissioner Nicole Carlton to a new job overseeing the city's Emergency Operations Center.
Carlton's new position, effective last Monday, is assistant director of emergency operations. She is charged with preparing for major emergencies and coordinating the city's response to them.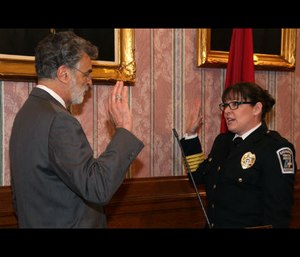 The office of emergency management, which is part of the Public Safety Department, also oversees the city's response to large community events, such as the St. Patrick's Day parade.
Asked why Carlton was moved to the new position, Safety Director Karrie Howard said her experience, talent and leadership made her an "ideal choice" for the assistant director of emergency operations job.
"She has proven herself an effective leader during several major events within the city. Carlton is a dedicated public servant who sees the citizens of Cleveland as her first priority," Howard stated in an email.
Carlton had been earning about $107,000 annually as EMS commissioner. In the new role, she'll make about $113,000, according to a city spokeswoman.
Former Mayor Frank Jackson appointed Carlton to the top EMS position in 2011 as the interim commissioner. She was sworn in as the permanent commissioner in 2016, overseeing 300-plus employees and a $35 million budget.
In her new position, Carlton would be one of 45 or so employees in the Public Safety Department outside of police, fire, EMS and animal control.
Orlando Wheeler will serve as interim EMS commissioner until a permanent one is found.
The city intends to post the job opening at some point, and is encouraging "anyone who believes they have the qualifications and passion for serving the residents of Cleveland to apply," the spokeswoman said.
Cleveland is also seeking a new permanent fire chief after the May retirement of Angelo Cavillo. Bibb filled the police chief job earlier this summer with the appointment of Dornat "Wayne" Drummond.
___
©2022 Advance Local Media LLC. Visit cleveland.com. Distributed by Tribune Content Agency, LLC.
McClatchy-Tribune News Service