Cleveland EMS swears in first female EMS commissioner
Nicole Carlton, interim commissioner since 2011, implemented a body armor policy for every response and is preparing EMS for the Republican National Convention
---
CLEVELAND — Nicole Carlton was sworn in as the City of Cleveland Commissioner of the Division of EMS by Mayor Frank G. Jackson as the city prepares to host the Republican National Convention in July.
Carlton, the first female commissioner of the department, joined the service in 1993 as an EMT and has previously served as the interim commissioner since 2011, communications center crew chief, communications section quality assurance sergeant, and a deputy commissioner of operations.
She will lead a department of 265 employees and an annual budget of more than $22 million, reported Cleveland.com.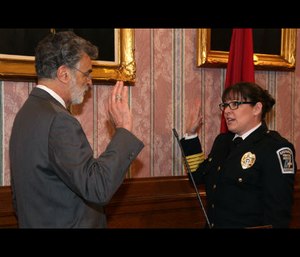 "They reach out to us in their worst moments and they count on us and put their lives in our hands," Carlton said. "I'm committed to providing the community with the best prehospital care that we can, and transporting patients and understanding our role of education the community about early access to health care."
"I know that her interaction with all the hospital systems in preparations for the upcoming (Republican National Convention), she will lead the city well in the provision of health and medical care," said Ed Eckert, public safety directory and former EMS commissioner.
Earlier this year, Carlton oversaw the implementation of a new policy requiring Cleveland EMS personnel to wear body armor on every EMS call.
Jackson recognized Carlton for a number of achievements during her career including implementation of the city's first public access to defibrillation program, overseeing the installation of AEDs in city-owned buildings, and creating an agreement with regional hospital systems to eliminate restrictions for ambulance transports.
In addition, Carlton has improved the EMS division's community education program by extensively expanding health screening and other public programs.