Ohio fire, EMS crews assist USCG in rescue of 100 fishermen
Emergency crews received reports of 100 to 150 people out on the ice with many trapped on the ice that had separated from shore
---
Sarah Elms
The Blade, Toledo, Ohio
PORT CLINTON, Ohio — A weekend morning of ice fishing turned dangerous fast when wind gusts cracked and pushed ice sheets away from shore, stranding dozens of fishermen off Catawba Island State Park.
Emergency responders said all are safe Saturday after a multi-jurisdictional ice rescue.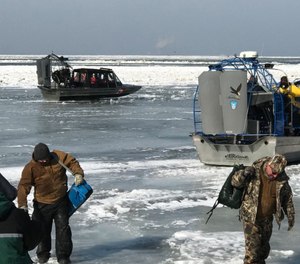 Petty Officer Miguel Corona with the U.S. Coast Guard said emergency crews received reports of 100 to 150 people out on the ice at about 8:20 a.m. Saturday, with many trapped on the ice that had separated from shore.
"Once we realized there were more people about a mile, mile and a half offshore, we took our airboats and went to them and tried to rescue as many as we could," he said.
Crews rescued just under 40 people stranded on the ice sheet, he said. Others were able to take their gear and head back to shore safely before any more ice broke off.
"When we got here there were about 100 people walking on the ice back to the state park," he said.
Lieutenant Eric Schramm, with the Catawba Island Volunteer Fire Department, said no one was injured in the incident.
"Everybody was safely brought off the ice," he said. "There were quite a few that were able to walk off the ice on their own, and then there were pockets of people that were stranded where different ice floes were broken off."
Tony Adkins, 42, of Akron, said he was out on the ice for about 20 minutes before cracks started to open up.
"It happened really fast," he said. "We didn't know there was open water beyond us."
Soon there was a substantial gap between the ice he was on and the shore.
"Thank god the Coast Guard was here for us," Mr. Adkins said. "You live and you learn, I guess."
James Gibelyou, 33, of Wakeman, was out with about 18 other fishermen.
"We were out about a mile and a half, and out of nowhere that wind just picked up and everything broke fast," he said.
Mr. Gibelyou said he was out in the same place Friday morning and noticed the ice conditions were shifting as the weather got warmer by the end of the day.
"We should have called it yesterday and not come out this morning," he said.
Fisherman Mark Duszynski, of Toledo, is an ice guide, but he didn't run any charters this season because of the conditions.
"We didn't have great ice," he said.
He has fished on Lake Erie this winter, but he wasn't out Saturday. He watched the rescue efforts from shore.
"The wind started shifting and opening up the ice. They can't get across the cracks when they open that quick," he said. "They shouldn't have been out that far. They couldn't get back across. When that ice has room to move, it moves fast."
Petty Officer Corona said ice conditions start to deteriorate as the weather warms. He encouraged all fishermen to check ice conditions, pack safety gear, and file a float plan with friends or family before going out on the ice.
"Let someone know where you're going to be fishing, what time you plan on being on and off the ice, just so that way we have accountability for you," he said.
The Put-in-Bay Fire Department, Ottawa County Dive Team, North Central EMS, and Catawba Township police, fire, and EMS crews, along with civilian air boats, all assisted in the rescue efforts.
———
©2019 The Blade (Toledo, Ohio)
McClatchy-Tribune News Service