Remember REHAB for prolonged incidents
Use the acronym to plan for five key elements needed to handle rehab operations for dozens of firefighters over several hours
---
This article first appeared on FireRehab.com, sponsored by Masimo.
It's a sunny summer day, and the tones sound for a residential fire, smoke and flames showing from an apartment complex.
You and your partner respond in the ambulance. En route, the first arriving engine company gives their first-in report: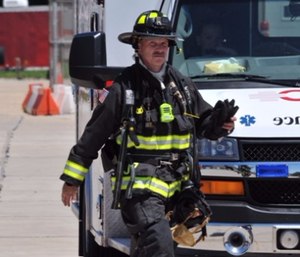 "Engine 1 is on scene of a three-story, multi-unit apartment structure, with smoke and flames showing from the roof. Multiple occupants are outside of the structure, and there are no signs of immediate rescue needed."
You and your partner look at each other and realize two things. Either you're going to end up transporting a patient with smoke inhalation or you're going to be on scene for quite a while performing rehab.
Multiple units arrive on scene along with your ambulance, additional alarms are requested, a staging area is established and fire suppression operations are underway. No rescue is needed, there are no victims needing transport and community groups are already working to care for the displaced residents.
That leaves you and your partner with your second realization: It's time for rehab.
The first round of firefighters are exiting the structure with low-air alarms chirping, tools in hand, drywall dust covering their gear and sweat dripping down their faces as they remove their SCBA masks. It's time to rest, knowing that rehab is just around the corner.
Prolonged incident rehab operations
But what do we do when we know we're going to be on scene for quite a while? What considerations do we need to make when two hours turns into eight or 12 hours? What equipment do we need to handle rehab operations for dozens of firefighters, not just a few engine companies?
NFPA 1584: Standard on the Rehabilitation Process for Members During Emergency Operations and Training Exercises outlines a number of considerations for when firefighters should report to rehab, which vital signs should be assessed, how to document your findings and when personnel can return to duty. The purpose of this industry guideline is to keep us informed, keep our care consistent and assure that a uniform approach is being taken at every incident.
Here are five things to keep in mind during prolonged incidents by remembering REHAB, which stands for:
Resources
Environment
Hydration
Assessment
Breaks
Resources for prolonged incident rehab
A single-family residential fire may only need your ambulance and a couple crew members for the rehab team, but a prolonged or large-scale event will certainly require more resources. Additional personnel, chairs, cooling fans and even cots for rest may all be necessary for rehab in large, longer-duration events.
Many larger fire departments and regional response groups may have rehab trailers available that can aid with resources. They're designed to provide shelter, privacy and comfort throughout these multiple-hour events.
A generator to power cooling devices and lights, fresh ice, coolers for water storage and shade for seating may already be considered with established rehab protocols and guidelines. But if you don't already have something as elaborate in place, here are a few items you may want to acquire to help you get your personnel through a large-scale rehab event:
Portable bathrooms
Coolers for water and electrolyte drinks
Chairs and cots for resting
Tents and canopies for shade
Towels and hand wipes for cleaning
Fans and portable boot/glove dryers to air out wet gear
Environmental protection
Weather and temperature can make a big impact on rehab operations. Your ambulance can only provide so much space and comfort, and the patient care compartment can only handle so much dirt, soot and that smoky (carcinogen-filled) aroma.
Since you can't escape the scorching heat of Arizona, the frigid winters of Wisconsin or the thick humidity of Georgia, you need to consider what your rehab environment will provide in terms of comfort. Considering this, providing some sort of shelter away from your ambulance is needed.
Be able to provide a space that can be cooled or warmed to adapt to your environment. Consider rain or snow during your event. Provide for shelter during storms and be considerate of any local resources that you use. While a neighbor's living room and kitchen may not be the best environmental shelter, a nearby storage garage or carport could be.
Hydration with water and electrolytes
Remember to keep working firefighters adequately hydrated. Water is a significant part of hydration, but don't forget about electrolyte replenishment as well.
Coffee may keep you warm in the winter and a cold soda may taste great in the summer, but neither beverage does any good in terms of rehydration after 20 minutes of strenuously pulling ceilings while looking for fire extension.
All too often, we turn to fast food to fill the immediate void in our stomachs, but this is not the best long-term solution. Instead of high-sugar and high-fat junk food, turn to fruit trays, sandwiches, granola bars and bars or gels designed for endurance athletes.
Assessment throughout the incident
Rehab assessments should evolve as conditions change during the incident. Monitor firefighters' vital signs for trends of sustained hypertension despite rest. Watch for signs of hypoxia, heat exhaustion and heatstroke.
Considering the byproducts found in smoke, evaluate your patients and firefighters for evidence of altered mental status due to carbon monoxide and hydrogen cyanide poisoning. Treat them accordingly with oxygen for hypoxia and hydroxocobalamin for cyanide exposure. Break out your oxygen trees and be prepared to provide supplemental oxygen to multiple people at the same time.
Breaks for rest or even sleep
While the fire call might have been dispatched at 6 p.m., keep in mind that many of the responders on scene have already been awake for 12 hours, and they may have another eight hours to go on scene. Warm days may require more rest, cold days may require more warm-up breaks, and even a comfortable 70-degree day can be exhausting as they continually carry 50 pounds of gear.
Be proactive and be prepared to offer assistance and help firefighters take advantage of the opportunity to rest, eat and change into dry clothing. Carry a small bag on your response apparatus. Include a new shirt and pair of socks, some durable snacks, an extra bottle of water or sports drink and a package of hand wipes. Keep a spare hood and pair of gloves that you can switch out in case yours become wet, dirty or even frozen.
At prolonged events, it's not only the active firefighters who should cycle through rehab. Everyone on scene, including the EMS crew running rehab, the engineers at the pump panel and command staff need a mental break, a chance to recharge and time to replenish fluids and nutrients.
REHAB is a shared responsibility. Know your limitations and be on the lookout for signs of fatigue in other responders so that everyone goes home at the end of the incident.