Iowa city offers free EMT classes to address volunteer shortage
Jesup Ambulance Service posted the offer on social media after the number of EMTs in the city dropped to five
---
By EMS1 Staff
JESUP, Iowa — An Iowa city ambulance service is offering free EMT classes to entice new recruits.
Jesup Ambulance Service (JAS) is looking to recruit more volunteers after the number of EMTs available to serve the area of about 3,000 people dropped to five, leaving the city in desperate need of personnel.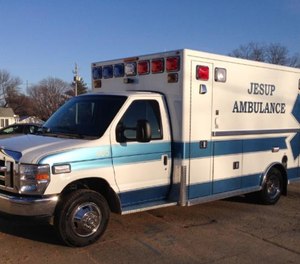 "We've averaged about 15 for the last several years, but this is really the first time we've felt the strain of the numbers we've got," Ambulance Chief Cassie Shaffer told KWWL.
Shaffer added that in rare cases there have been no EMTs available to respond to a call, requiring neighboring agencies to respond.
JAS covers several highways, meaning serious car crashes requiring more than one ambulance can occur, according to Shaffer. With the single-digit number of EMTs on duty, the service may not have enough people to deploy two or more rigs.
In a Facebook post, JAS said the city of Jesup will cover the tuition of residents who complete an EMT course at Hawkeye Community College in nearby Waterloo. Graduates of the course will be able to respond to emergency calls, and treat and transport patients to local hospitals, according to the post.
The Facebook request garnered attention from locals, and currently has more than 100 shares and 13 comments from interested followers.
"We've had a lot of interest from community members and members of our local fire department that are willing to join up and take this class with us and really help us out," Shaffer said.
The social media post also noted that Iowa allows registered nurses to join an EMS with approval by the service's medical director.
EMS is not considered an essential service by the state of Iowa, meaning agencies do not receive state funding and can struggle with personnel shortages and budget issues, KWWL reported earlier this week.
In a newsletter this fall, Iowa Emergency Medical Services Association President Mark Sachen noted an "EMS crisis" is happening across the state and nation, and stressed the importance of supporting smaller services and improving the state's EMS systems.