FF-paramedic heads new Pa. school club to connect students to public service careers
The organization will introduce students to careers like volunteer firefighting, police work, emergency management, EMS and 911 dispatchers
---
By Megan Tomasic
The Tribune-Review
GREENSBURG, Pa. — A new club at Hempfield Area High School could help bridge the gap between a lack of volunteer firefighters and a younger workforce.
The Public Services Club is headed by biology teacher, volunteer firefighter and paramedic Justin Heddinger. The organization will introduce students to careers like volunteer firefighting, police work, emergency management, EMS and 911 dispatchers.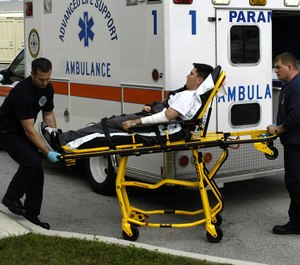 "It kind of was a solution of why don't we start this club … to help gear (students) toward the goals they want, and this way they can learn if they like it or don't like it," Heddinger said, adding that the club will give students real-life experiences to help make a decision about specific careers.
Proposed by Hempfield resident Scott Graham and approved unanimously by the school board Monday, the club is set to start this school year.
Heddinger, who volunteers at Greensburg Co. 7, said the club will not only focus on students looking to jump-start their careers in emergency services, but also will help those who need volunteer hours before attending a college or university to study nursing or to be a physician's assistant.
Edgar Grant, director of the Penn Township Ambulance Association, agreed, adding that he hopes to see the club introduce students to jobs that have long-term career developments, giving the example of a paramedic expanding into a nursing career.
Heddinger said he also hopes the club helps connect college-bound students to those who attend the Central Westmoreland Career and Technology Center.
"It's about the community to me, it's about helping people, it's about building teamwork," Heddinger said, adding that it will connect "multifaceted people who may not necessarily come together yet, but who might come together later in life."
By collaborating with the vocational school, which already has a protective services program for students focused on pursuing fire, emergency medical, law enforcement or emergency management careers, Heddinger hopes students will have an avenue to connect them to volunteer opportunities and gain skills for jobs.
The formation of the club comes as Hempfield Township grapples with reorganizing its fire service while combating aging volunteers and a declining volunteer base.
"I think it's helpful just getting kids interested at a younger age," said Bovard Fire Chief Greg Saunders. "That's when you get them hooked, before they get interested in other things."
Grant added, "It certainly could bring some interest to a real problem we're facing with available people interested in going into the emergency medical service field. We are in a real dire need of staff.
"As we are seeing staff that have been doing it for 20 years, they're wearing down physically and wanting to do jobs that are not so physically demanding. So to have a high school club that gives students and young people the potential to consider a career or volunteer career … is a great welcome."
Heddinger and Saunders said the club had been proposed in years past, but it never made it past the initial phases. Township supervisors again expressed interest in creating a partnership with the district after a public forum held with township firefighters to brainstorm recruitment and retention techniques.
Graham eventually proposed the club to the school board, finalizing details during last week's workshop meeting.
"The forming of this club was a group collaboration and could not have been possible without the help and input from the local fire departments, first responders and the Hempfield School Board," Graham said in an email to the Tribune-Review. "This club can be very successful. Successful not just at Hempfield Area High School but in the township of Hempfield and beyond."
Heddinger said a formal announcement has not yet been made to students regarding the club, but that former students have showed their support for the partnership.
———
©2019 The Tribune-Review (Greensburg, Pa.)
McClatchy-Tribune News Service