Conn. city starts campaign to increase diversity in public safety workforce
The New Britain police, fire and EMS departments are hoping to recruit more women and people of color through a free hiring workshop
---
Don Stacom
Hartford Courant
NEW BRITAIN, Conn. — Looking to hire about 20 police and firefighters this year, New Britain is starting a campaign to attract more applicants of color and more female recruits.
And just as importantly, the city wants to hire plenty of local residents, officials said.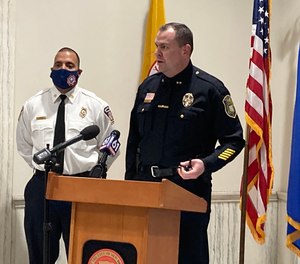 "We often hear our community talk about the importance of having people from New Britain working in New Britain — they are the best people we can hire," Mayor Erin Stewart said Thursday at a press conference at city hall.
The police and fire departments along with New Britain EMS, the nonprofit ambulance service, are hosting a free workshop Feb. 15 for interested residents along with any prospective applicants of color from around the state.
All three services will give step-by-step directions on how to prepare for hiring exams and how to obtain any necessary certifications. Anyone interested may take a practice written exam and then go to Willow Brook Park for a practice physical agility test.
Staff will coach applicants on specifically where to get help preparing for the real written exam and how best to train for the official physical agility test. Police will explain what they look for on the psychological test, and detectives will be available for one-on-one conversations about what background investigations look for.
The goal is to give prospective applicants the best preparation possible for understanding every stage of the hiring process, Fire Chief Raul Ortiz said.
"We're saying we're going to remove the roadblocks, remove these barriers" by ensuring applicants know what they'll need, Ortiz said. "We're giving people the opportunity to know what the qualifications are so they aren't caught off guard."
Currently 77% of New Britain's police force is white; just 9% is Black, 12% Hispanic, 2% Asian-American. Men account for 90% of the roster.
"We want our department to represent the demographics of our city," Chute said. "There's no better way than to pull from the pool of citizens in the city. City residents who become police officers are usually our best officers."
Ortiz said his department, too, needs to diversify.
"We are recruiting more people from the city, more people of color, more women. The numbers don't reflect that right now," Ortiz said.
"Our department has about 12.5% African Americans, 4.5% women and 12.5% Hispanics," Ortiz said.
"But I can tell you in the last five years we've increased the number of African Americans by over 33%, we've increase our women by 100% and our Hispanic population about 25%," Ortiz said.
He agreed with Chute that hiring locally is good for quality of service as well as diversity.
"There's no one better to serve the city than people who live in the city, who know the demographics, who know the ins and outs of the city, who the players are, how to talk to this community and be empathetic to this community," Ortiz said.
Carmelo Rodriguez, president of the New Britain Latino Coalition, said New Britain has made substantial diversity progress in the past decade. He cited the late Mark Carr, who was the city's first Black fire chief; Ortiz, its first Hispanic chief; and Jeanette Portalatin, who retired after becoming the police department's first female deputy chief and first Hispanic deputy chief.
Ortiz, Chute and New Britain EMS Chief Bruce Baxter all said they're looking for more applicants from the city.
"We have some very vulnerable communities here," Ortiz said. "If you're not from here, you don't necessarily know how to interact with them. That's invaluable."
___
(c)2021 The Hartford Courant (Hartford, Conn.)
McClatchy-Tribune News Service