Ark. EMT speaks out about understaffing after officer's death
EMT Jason Bowman responded alone when Officer Kevin Apple was struck by a vehicle
---
By Jessie Forand 
PEA RIDGE, Ark. – In the past, Pea Ridge EMS had an average of 30 volunteers.  
Now, it has 17.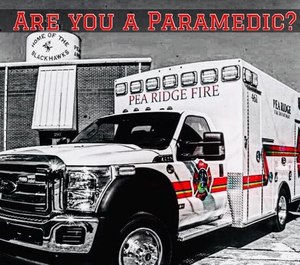 KNWA reports the death of Officer Kevin Apple last month has shone a light on the need for more staff.  
Last month, Apple was hit by a vehicle in a convenience store parking lot and died from his injuries. EMT Jason Brown was alone when he responded to the call – even though there should be two licensed providers on each ALS-level call, according to the Arkansas State Board of Health.  
RELATED: 2 arrested after Arkansas officer struck, killed by vehicle 
Bowman said understaffing has been a long-term issue in Pea Ridge: "I promised as a first responder to help, and being staffed and left alone like that hurts." 
"If it wasn't Officer Apple, what if it was somebody else and there was a chance that they could have been saved?" he asked during the KNWA interview. "They would have been waiting for someone else to come pick them up and take them." 
The city's mayor, Jackie Crabtree, said he is aware of community frustration and said it's tough to get volunteers despite a budget allowing for three full-time paramedics, and more grant funding being sought.  
"It's not really a funds issue, it's just getting things organized where we can do that," he said.