Water supply safety, damage unknown as Maui recovers from wildfire
A month after the devastating fire residents of Lahaina and Kula still cannot drink from the water system
---
By Kevin Knodell
The Honolulu Star-Advertiser
KULA, Maui—More than a month after a series of destructive wildfires that decimated much of the historic town of Lahaina and a number of homes in the Upcountry community of Kula, many residents are still being advised not to drink or bathe with water from systems that officials say were damaged and contaminated during the fires.
Though Kula wasn't hit as hard as Lahaina, where at least 115 people died and dozens remain unaccounted for after the deadliest U.S. wildfire in a century, the continued lack of water has been a hardship for both families and businesses. Meanwhile, firefighters are still dealing with hot spots and flare-ups as they try to extinguish the Olinda fire.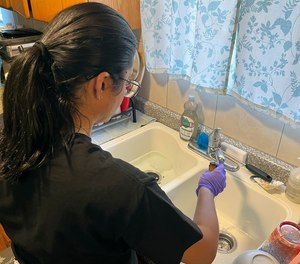 The Maui County Department of Water Supply did not respond to questions from the Honolulu Star-Advertiser about how extensive the damage to the water system is, what has been done to fix it or when the unsafe-water advisory might be lifted. But on Tuesday night Maui County sent out a news release announcing that it had amended its advisory to remove Upper Kula Zone 1, which includes most of the community.
"The evidence makes clear that fire-related contaminants did not impact the Upper Kula Zone 1, " the media release said. "However, there are concerns related to water that may have stagnated within homes and buildings while the advisory was in affect for the zone. To address these concerns, the Department of Water Supply recommends that customers flush their lines for at least 10 minutes. The purpose of flushing is to remove any standing water in plumbing and pipes due to non-use and replace with fresh water."
But according released by the county, for most parts of Kula around Pulehu Gulch—one of the areas the fires tore through—the unsafe-water advisory remains in effect. Rory Mayo, who has been running a series of aid distribution sites in both Lahaina and Upcountry, said that "we've been trying to get water up there, as many pallets as can be jammed on flatbed trucks just to help them."
Three fires that began Aug. 8 quickly spread amid a mix of high winds and drought conditions in Lahaina, Kula and Kihei.
On Aug. 11 Maui's water board issued an unsafe-water alert, saying both the Upper Kula and Lahaina systems experienced wildfire impacts due to the destruction of structures and loss of water pressure in some areas, allowing harmful contaminants—including benzene and "other volatile organic chemicals "—to enter the systems.
Officials urged people not to drink tap water or use it for bathing or cooking, and stressed they did not think that boiling, freezing, filtering, adding chlorine or other disinfectants or letting water stand would make it safe.
Marine Peila, store manager at the Kula Marketplace at the Kula Lodge, said officials had told her that water could be restored sometime within a time frame of one to 10 weeks. The Kula Lodge is in the area where the county still deems the water unsafe.
"The information has been spotty and maybe a little misguided, " she said.
Peila said that in the first few days after the fires began, "before we even knew that (the water ) was contaminated, we were housing a bunch of people from Lahaina and Kula that had been displaced." She said that one of them began having rashes and that "the next day, we found out that benzene was in the water. So we had to start providing bottled water."
Kula resident Kelly Faoro, who was filling water jugs from a water buffalo at the Kula Lodge on Saturday, said, "I've only lived Upcountry for a couple of years. I think I chose my neighborhood well, because the people up here all stick together, take care of each other, give each other rides, pick up water for each other, and nobody complains.
"(With ) volunteers and everything up here that are here for you. It's fairly easy to get clean water, " said Faoro. "Now, do we all want clean and safe water running out of our taps ? Of course."
The lack of water has been a particular strain on Kula businesses. The Kula Lodge cannot accept guests until the water is deemed safe again, and its restaurant has remained closed.
Coral Mathison, owner of Country Coffee, a coffee stand in Kula, managed to stay open because the trailer she operates out of isn't connected to the water system. She said that while the lack of water has been frustrating at home, she feels lucky that she can use purified water at the stand and was able to keep the business open.
Still, business is slow. Mathison said "we have very few visitors, and once everyone left it just dropped."
Firefighters are continuing to battle flames and monitoring for flare-ups in the Olinda fire.
Olinda resident Jeanette Hablewitz said firetrucks speeding up the hills remain a daily occurrence. She said the smoke from the fire became a problem for her mother, who suffers from respiratory problems.
"Two weeks prior, she was in the hospital, she was coughing up blood. So she has these issues, " said Hablewitz. "We're just smelling smoke. She's huddled in her room with the air purifiers, and I'm like, 'I gotta do something, I gotta get you out of here.'"
Hablewitz said she put her mother in a hotel a block away from where her sister lives and has booked it for the month in hopes that her mother can return once the Olinda fire is fully extinguished. She said that while it's unclear when that will be, and firetrucks are still a common site by her home, she feels there's been some progress.
"We're not smelling smoke all night, " said Hablewitz.
The state Department of Land and Natural Resources has been sending water trucks to spray down dry vegetation to try to prevent flare-ups and new fires in Upcountry woodlands. As the smoke clears, many in Upcountry are hoping to see visitors return.
In the immediate aftermath of the fire, visitors were advised to vacate West Maui in order to accommodate relief efforts for the thousands of locals displaced by the disaster. But tourism across the entire island—including Upcountry—has plummeted, essentially gutting Maui's economy.
State and county officials have been begging visitors to return to Maui except in the off-limits zone in Lahaina. Gov. Josh Green announced Friday that all but that zone will be open to tourists beginning Oct. 8.
But Hablewitz, who is a local artist and owner of Cultural Creations Maui in Makawao, where she sells her art, said she believes a "pause " is necessary.
"Don't be worried about this, because we have to take a pause for all people who lost their homes, lost their lives, lost their businesses, " she said. "In a mourning period, where we're losing a big part of our island, and a lot of people who have lost their lives are elders and the Hawaiians, it's like, we got to take a pause. That's just how I feel."
However, Hablewitz acknowledged that she comes from a position of paying relatively low rent for her business and having a flexible landlord and that many others are in more precarious situations. Hablewitz said rental assistance and other aid need to be available for businesses that are struggling.
Mathison said she hopes to take advantage of aid programs for businesses announced by Green last week one month after the beginning of the fires. On Friday, Green said he had authorized $100 million in aid that could translate into $3, 000 to $4, 000 for affected families and $25 million to help businesses survive with grants of $10, 000 to $20, 000.
The aftermath of the fire is a particular challenge for workers at Maui businesses, many of whom now find themselves out of work and struggling to get by even as they are mourning friends in Lahaina.
Peila is currently the only employee of Kula Market, the rest having been laid off as business dropped off. She said she gets the occasional visitor, including a handful of tourists who say they have been taking time out of their sightseeing to volunteer with organizations helping Maui residents affected by the fires.
"Nothing like this has ever happened in Hawaii or on Maui, " said Peila. "So we're all kind of navigating and taking things day by day. I'm born and raised in Lahaina, so I'm in close contact with a lot of my friends and family down there, and it's just every day is a new experience."
(c)2023 The Honolulu Star-Advertiser
Visit The Honolulu Star-Advertiser at www.staradvertiser.com
Distributed by Tribune Content Agency, LLC.
PREVIOUSLY: Searching for remains and closure in Hawaii devastation
McClatchy-Tribune News Service