Safety equipment group honors Fauci with distinguished service award
"The safety equipment industry deserves high praise for your work during the COVID-19 pandemic," said the physician-scientist
---
By Leila Merrill
EMS1
ARLINGTON, Va. — The International Safety Equipment Association gave its Robert G. Hurley Distinguished Service Award to Dr. Anthony Fauci, director of the National Institutes of Health's National Institute of Allergy and Infectious Diseases.
The award was presented at ISEA's awards dinner on Monday as part of the ISEA Annual Meeting.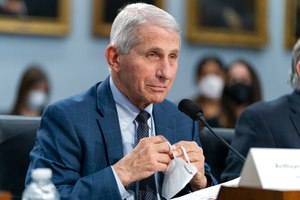 "We present the Robert G. Hurley Distinguished Service Award annually to a person who, through a specific action or through a focused career, has made a significant impact in the safety and health field," said Cam Mackey, ISEA president and CEO. "This year, ISEA is not only recognizing Dr. Fauci's decades-long public service that began in 1984, but also his dedication to informing the public about ways to keep safe from disease and other public health risks."
"I very much appreciate the honor of this award," said Fauci, who plans to retire from the federal government in December. "The safety equipment industry deserves high praise for your work during the COVID-19 pandemic. We need you working and innovating in lockstep with the public health community as we confront the continual challenge of future immerging and reemerging infectious diseases. Please keep up your great work." 
SEA applauded Fauci's advice throughout the pandemic to wear facemasks and respirators to help prevent the spread, particularly for America's frontline healthcare workers. He has noted that wearing masks likely saved hundreds of thousands of lives.  
In addition, Fauci called for the use of personal protective equipment by those treating Ebola patients, calling for heat-to-toe protective gear when few others did. He also countered the notion that any American hospital should be able to care for an Ebola patient.