Q&A: Fitch on what the future holds for EMS
An Interview with Jay Fitch, PhD, about Pinnacle 2022 and beyond
---
By EMS1 staff
The 16th Annual Pinnacle EMS Leadership Forum will be held July 25-29, 2022, at the JW Marriott Resort in Marco Island, Florida. We sat down with Jay Fitch, PhD, program co-chair (along with his Fitch & Associates partner, Anthony Minge), to discuss what to expect from this year's gathering.
EMS1: First of all, congratulations on the creation of Fitch EMS Foundation, announced at Pinnacle last year. Tell us about what you hope to accomplish with it.
Fitch: Those in attendance know it was a complete surprise. My partners wanted to honor my life-long commitment to leadership development by creating a non-profit foundation in my name. They endowed it to support scholarships to cover the registration costs for a variety of educational opportunities, including Pinnacle, for emerging leaders who otherwise might not be able to attend. They brought my entire family, including grandkids, as part of the surprise when they announced it. Their thoughtfulness brought tears to my eyes and was a highlight of my career.
EMS1:  What iss new and different about this year's Pinnacle?
Fitch: This is our first time to Marco Island, just south of Ft. Myers, on the west coast of Florida, where you get eye-popping sunsets on the bright blue waters of the Gulf of Mexico. As many of our past attendees know, we've had a long-standing relationship with the JW Marriott, which is a five-star brand known for its beautiful, family-friendly resorts. Because of our relationship with Marriott, we've been able to get extraordinary room prices for participants.
We emphasize the location, because we want folks to have a relaxed experience in a special environment – everyone stays at the same place, and you run into old friends in the hallways, elevators and restaurants, compared to the giant trade show convention center. It makes for better conversations, education and networking. Traditionally, a lot of our customers bring their partners or members of their family, to mix business and pleasure.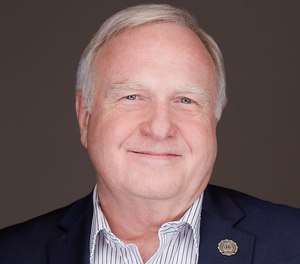 EMS1:  What can you tell us about the program?
Fitch: As always, our program engages the finest minds in the business, including some new ones you may not have met before. Coming out of the pandemic, we know our EMS colleagues have faced two of the toughest years in their careers. We wanted this year's program to be fun and inspiring as well as educational, in a place that is more like a retreat than a hotel. Our opening keynote speaker this year is Michael Levin, who tells an inspiring story of overcoming physical and mental stress, in a way that is refreshingly vulnerable. Something that speaks to all of us.
The imitable Dr. Ed Racht is doing the closing keynote. We gave him the tough assignment of taking the highlights of the conference, blending them with the many conversations he had with participants and faculty, and then mixing them with his own experience, and eventually translating them into real-time insights into what the future holds. And of course, only Ed can do it in a style that is wildly entertaining.
EMS1: What themes are emerging from the program this year?
Fitch:  I think the pandemic, as devastating as it had been, has gotten folks to rethink their assumptions about a lot of things – from recruitment and retention, to financial sustainability, to transporting to places other than an ED, to using telemedicine. While ET3 may not have been the game-changer we hoped it would be, it clearly shone a light on how things could be.
Many of our sessions challenge our paradigms, including an interesting quality improvement project on the use of lights and sirens led by the National EMS Quality Alliance. They enlisted 50 EMS agencies to use their NEMSIS data to gather best practices around not using lights and sirens and thinking about running hot as a clinical decision. Pinnacle attendees will get a first look at the initial results.
Another bonus session highlight is an ASM research presentation titled "SOS: Statistic or Survivor" which will outline specific strategies caregivers can use to diffuse a tense situation.
EMS1: The late Jack Stout received the Pinnacle Lifetime Achievement Award at Pinnacle in 2014. How are you honoring his legacy at this year's Pinnacle?
Fitch: Jack died in the middle of the pandemic in July 2020, and his son Todd Stout was only able to have a small family gathering to remember him. We decided to have a special session at this year's Pinnacle to honor his legacy as the "father" of high-performance EMS systems, and revisit the principles he espoused. Later that evening, Todd and FirstWatch are hosting a special Celebration of Life for Jack. All Pinnacle participants are invited, whether they knew Jack personally or not, to hear stories about his life and how he made a difference in the industry.