Infection control: 4 tips to embrace a clean squad culture
Protect your crew, your patients and yourself by limiting your infectious disease exposure risk with PPE and best practices
---
I've been saying this for years (and my prior crew members could attest to my OCD-like cleaning habits on the ambulance) – "a clean squad is a happy squad!" 
Wiping off the steering wheel, the grab bars and the bench seat will only result in clean hands up front and clean butts in back. Instead, we need to focus on a whole-ambulance approach. We need to make sure that our ambulances are clean enough to lick the floors (although, I strongly discourage that experiment). 
This starts with a shift in focus – a cultural change toward infection prevention. Watching a boring video once a year (which is always tied-in with your HIPAA compliance stuff) is not sufficient. We need to focus on infection prevention – a clean squad – every day, and after every call. Here's four tips to help you promote – and embrace – a clean squad culture toward infection prevention.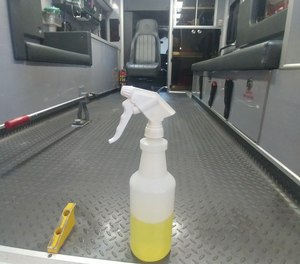 1. Pre-plan and prepare 
If you're dispatched to "xyz" call, then you likely have a good idea of what types of illnesses/injuries you're going to encounter. So, what about your infection exposure risks? Did you remember to focus on that as you put up your jazz hands and recited "BSI, scene safe?" 
Oftentimes, initial training toward infection prevention in both EMS programs and on-the-job training programs are extremely minimal. If you've ever attended a nursing course, you were extensively trained on how to properly wash your hands in a Joint Commission-compliant fashion. But you were not likely trained to properly handle patients in various field environments right after an event occurred, or while they're still sitting inside of their messy bathroom. In a sense, you weren't training in hazardous materials response ... beyond how to look at your orange guidebook. 
Well, put on your glasses, don your mask and embrace a new level of necessary EMS training: first receiver (or HAZWOPER) certification. 
While we could all agree that level-A hazardous material scene entry should be performed by qualified technicians, level-D training should be completed by those that need to perform level-D scene entry – such as EMS providers. 
Hospital emergency response teams (HERT) are required to undergo this level of training, and they're "just" the ones receiving patients. We're actually the ones picking them up and transporting them. We should be required to obtain it, too. 
2. Be smart with your actions 
Remaining cognizant of what you grab and where you place items can all limit your exposure to infectious substances. While backpack med bags can be convenient, be aware of where you set them down – after all, you're often placing the same side as the shoulder straps immediately into a pile of dirt on a trailside, water on the roadway, or even bodily fluids inside of a residence. 
As you pick up your patient from the ground, do you have your arms covered with protective sleeves or even a gown? Or, is your sweatshirt your only barrier (and when do you remove/clean that sweatshirt)? 
How about the scenes that you anticipate coming in contact with blood or other fluids? Do you double-glove, wear glasses and a mask, or take off your gloves before getting behind the wheel? Being smart with your actions – and what you come into contact with – can all limit your exposure (as well as your crew and your patients' exposure, too). 
3. Clean before you return 
If your ambulance doesn't have ample cleaning (disinfecting) wipes or even spray solutions on board, then it's ill-prepared to handle its tasks ahead. Having the right tools to handle the job is an important part of ambulance operations – and cleaning should not be a deviation from this. 
Putting your ambulance back together – including cleaning it – so that it can be as close to 100% as possible is an important aspect of crew turn-around. Even if calls keep coming in, not disinfecting or cleaning your ambulance should not be an excuse to jump the next call; nor should your dispatch center or supervisor be pushing you to brush aside this necessary task. 
Unit hour utilization should not drive turnaround or cleaning times; the demands of the prior call should (and administrators need to respect that). 
4. Beware of what you're bringing home 
Let's face it ... our job isn't always a very clean one. So, it's important that we respect what's out there – and what we're potentially bringing home with us.  
The fire service is undergoing a massive shift toward cleaning turnout gear after each active fire call, so what about EMS? Smoke-tinged and soot-stained gear is no longer a badge of courage, it's a symbol of cancer. So, what about blood-stained, cough-covered, and droplet-splattered clothing? 
Perhaps it's time that we treat our vehicles and homes with a bit more separation than we do our ambulances, crew quarters or even our hospitals. Perhaps, changing out of your work attire as you end your shift is a good practice to get into. After all, we don't need to bring our work home with us (literally). 
Infection prevention – embracing a clean squad culture – is more than a small chapter at the end of our textbooks. It's a concept that should be embraced from day one, and should follow us throughout our entire career.