Behavioral health emergencies require de-escalation skills
The interaction of health care providers and the high risk patient population poses many concerns and challenges
---
This is the fourth of 10 articles in the 2017 EMSFORWARD campaign. Read the article announcing the series or visit EMSFORWARD.org to access the full report and additional patient safety resources.
"I never know what to expect when I encounter a behavior health patient. Even after many years of working in EMS, they still make me nervous." — Anonymous Paramedic
Scenario: An EMS crew is transporting a patient who is awake, alert and cooperative. Based on his presentation and comments, the crew sees no indication the patient is at risk for violence. The patient is placed supine on the stretcher with safety belts in preparation for transport to the hospital.
While transporting, the patient becomes agitated, quickly removing the belts and trying to get off the stretcher, stating "I want out ... now!"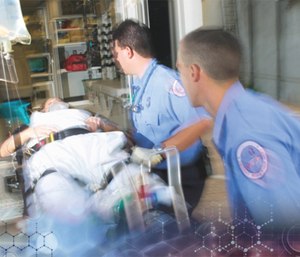 The situation escalates rapidly and the crew feels threatened. The patient gets off the stretcher and is yelling obscenities while the driver is slowing down to merge out of traffic and safely stop the ambulance. The patient punches the attendant in the chest, knocking him back into the captain's chair. The EMT is incapacitated after the blow to the chest.
The patient jumps from the back of ambulance into heavy traffic where he is struck by a car and killed.
Ask yourself: Are staff members trained in the management of behavioral health scenarios and de-escalation?