From volunteer EMT to Deputy Secretary of Health: Lessons learned
EMS leader and advocate Raphael Barishansky discusses his EMS career path from a volunteer EMT to the highest levels of state government
---
By Paramedic Chief
Raphael M. Barishansky, a long time EMS industry leader and advocate was sworn in by Governor Tom Wolf, Pennsylvania, as a Deputy Secretary of Health in August. 
Barishansky's long journey to the highest levels of state government began as an EMT in Teaneck, New Jersey, more than twenty years ago, and has seen him achieve positions of increasing responsibility in both EMS and public health. In addition, Barishansky is an accomplished author and a regular speaker at various state, national and international conferences.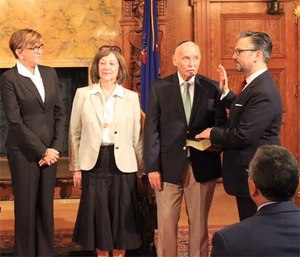 Transitioning from field provider to supervisor to manager to executive to high level political appointee calls for various skills sets. Paramedic Chief had the chance to speak with Barishansky after his swearing-in ceremony about some of the most important lessons he learned on his journey from EMT to Deputy Secretary of Health that future EMS leaders can utilize as they make their way on their career journey.  
Paramedic Chief: You have a variety of degrees and professional certifications. Higher education is a hot topic in EMS and many providers stand on either side of the issue. How can higher education or education beyond professional requirements benefit aspiring leaders?
Barishansky: One of the things that really helped establish me in our profession was my academic credentials. Aside from the credential itself, one of the things that employers see in academic achievements is the ability for you to set a goal and then accomplish that goal. Also, with education comes flexibility, in regard to positions, responsibilities and even potentially geography if you have to move for a position.
Paramedic Chief: Do you have any suggestions on other ways for aspiring leaders to further their educations?
Barishansky: I continually educate myself by learning from everybody. Realize that many of the people around you have a perspective that you may not have; they may have an experience set that you don't. Use their experience and perspective. This goes for everything from purchasing a new ambulance or piece of equipment to understanding who the real decision makers are in an organization to even learning when to stay quiet, and when to speak up, during a critical meeting. 
Paramedic Chief: Learning from others is a great point, but some aspiring, or even new, leaders may be intimidated by asking for help while they are just starting out. What advice do you offer for them?
Barishansky: Don't be afraid to ask for help. I have seen many instances where a manager, especially a newer manager, doesn't want to ask for assistance on a project. I have even been guilty of this myself.
Maybe you don't want to ask because you don't want to look weak or unknowledgeable, but that is a mistake. Many times, the answer to your issue can be found either internally in your organization or by asking those externally but in similar positions.
There have been very few times in my career when I have had to confront an entirely unique issue that others haven't dealt with already. 
Paramedic Chief: Medicine has long employed mentoring to develop providers and business has utilized it in professional development as well. What do you think about mentoring in developing EMS leaders?
Barishansky: Be both a mentor and a mentee. On every step of my particular journey, there have been people that I have turned to for advice in regard to academics, a potential job opportunity or even assistance with getting onto the lecture circuit.
Time and again, these people, my personal board of directors so to speak, have come through with balanced perspective and useful advice. Reach out to the people you know who have been there and done it with questions about their successes and potential pitfalls. 
Similarly, as you establish your own individual path, share what you have learned with those around you, those making their way up, those with questions about how you got to where you are and what to look out for. It's your responsibility to give back and help prepare those coming after you.
Paramedic Chief: What would you say to EMS providers looking to make the jump to an administrative position or an allied profession such as emergency management or public health preparedness?
Barishansky: Don't be afraid of the unknown. I was very secure in my career as a Regional EMS Council director when a job in public health preparedness presented itself. It was a gamble and involved me utilizing skills that I didn't use regularly and could have backfired on me. But I took the chance and jumped into that world. That gamble paid off in the long run as my skill set in two different disciplines — EMS and public health — were a factor in obtaining my last two positions.
Paramedic Chief: What advice would you give aspiring EMS leaders to use in the workplace once they have made the transition from provider to manager?
Barishansky: It's ok to say no — yes, that's correct, you can say no.
There will come a time when someone you report to will ask you to do something that simply isn't in your wheelhouse or should belong to another manager. Do not simply say no. That would be a mistake.
Explain clearly why you think this is a responsibility or project that is best handled by someone else. Also remember that saying no should not be your go-to response to every request. Save no for when it really matters.   
Paramedic Chief: What are some additional words of encouragement or advice to aspiring or new EMS leaders?
Barishansky: Becoming successful is usually based on a combination of factors: education, motivation, dedication to the job, mobility and even the mentors you choose. Join work groups, professional boards and pursue your career outside of the office.
If you move into emergency management or public health to advance your career, you can come back to EMS. Career paths are not always linear. My career has certainly not been linear and can be best described as multidisciplinary.
Understand that there is a road map, but there are times when you will need to throw the road map out the window and forge your own journey. Turn to those around you who are successful and ask how they got where they are.
Finally, do not let rejection slow you down. Whether it's not getting published or accepted for a conference, or not getting the job you wanted, you have to keep putting one foot in front of the other and moving forward.