4 ways to manage a thriving volunteer EMS organization
Research into non-profit and public sector organizations can help leaders of volunteer and combined EMS departments understand their members' motivations
---
By Michael Ward
Volunteer EMS and fire agencies throughout the United States have increasingly turned to paid or paid-on-call staff to supplement volunteer staffing. This has created an us-versus-them situation that interferes with the delivery of high-value emergency services.
Sarah Jane Rehnborg, Ph.D., of the RGK Center for Philanthropy and Community Service at the University of Texas at Austin, studied active non-profit and public sector organization executives to learn what works for volunteer effectiveness. Her findings provide a framework for smart utilization of caregivers within an emergency service system staffed by a combination of paid and volunteer members [1].
1. Reset your organizational goals and expectations
The building blocks of EMS include individuals that donated time, resources and talent to create community life-saving squads and an influx of federal grant money and bureaucracy in the 1970s focused on car crashes and cardiac arrests [2].
The challenge is the community expectations of EMS have changed. Most ambulance responses do not require significant medical intervention. EMS responds to many more behavioral health and overdose incidents than in years past.
At the same time, ambulances often must transport patients to hospitals far outside their local response areas, both because of an increase in allowing patients to choose their destination as well as the creation of specialty medical centers, for trauma, STEMI and stroke. Caregivers are resistant to having the only staffed ambulance in their community taking a transport to a hospital that places that ambulance out of the response district for hours.
Many communities with mostly volunteer EMS are not well served by commercial ambulance organizations providing scheduled transports. There are few options in getting a loved one moved out of the hospital or to a medical facility for scheduled appointment. About a third of patients receiving long-term care weigh 350 pounds or more, making the need for ambulance transport services that much greater [3].
The community life-saving squad should consider being the resource where their community goes to get medical transportation for all sorts of situations. This moves the squad beyond 911 responses and offers additional opportunities for services that can improve community health and resilience.
2. Involve all members in this reset
When volunteer community EMS agencies hire caregivers from outside the organization, the squad often isolates them from the planning and decision-making processes of the organization.
Treating part-time paid EMS caregivers like teenagers working at a fast-food restaurant is corrosive. It amplifies the us-versus-them conflicts and denies the squad the full value of experienced caregivers.
3. Consider different titles for caregivers
Nonprofit and public sector organizations establish different job titles and descriptions for employees and volunteers. This could be used by an EMS organization to reflect the squad's expectations of the role and tasks of each type of caregiver [4].
Our challenge is that clinical certification has been the de-facto job description in emergency service, regardless of pay status. Personnel are defined by their EMS credential, regardless of their tasks within the organization.
There are task assignments, such as chart review, inventory, vehicle/equipment maintenance, training and state compliance, that may be different for each type of caregiver within the squad. Requiring a qualified CPA who volunteers to help with the agency's finances to achieve EMR certification first is not an effective use of that volunteer's time and talents.
Virginia Beach Rescue Squad takes a different approach, offering five membership categories. Only the patient care/operational category requires certification. The other four do not require a clinical EMS certification to join. The categories are:
1. Patient care/operational
2. Special response team
3. Marine rescue team
4. Search and rescue team
5. Support member
Rehnborg's research shows people volunteer for two reasons: affiliation or skill. In "Strategic Volunteer Engagement: A Guide for Nonprofit and Public Sector Leaders," she developed "The Volunteer Involvement Framework," which helps managers of volunteers assess an individual's engagement and link with the organizational goals.
The framework looks at two different types of connection to service. The "affiliation-oriented" person gravitates to a service-opportunity to associate with either the purpose of the organization or with the group or network of people engaged in the service. For this volunteer, the orientation to the type of service, or the friends or colleagues with whom they will serve, is of greater significance then the type of work being done.
The second connection is a "skill-oriented" person who is more likely to express an interest in or a connection with the type of work performed. This person views the skills that he or she brings as paramount and wants to offer this specialized expertise to the organization.
The rows in the framework indicate how much time a volunteer has or wants to commit to the organization. "Episodic" may mean a one-time commitment for a specific task or project, or potentially a commitment that occurs periodically over time, such as helping every spring with a specific fundraising activity. "Long-term" volunteers can commit to regular, on-going service to the organization.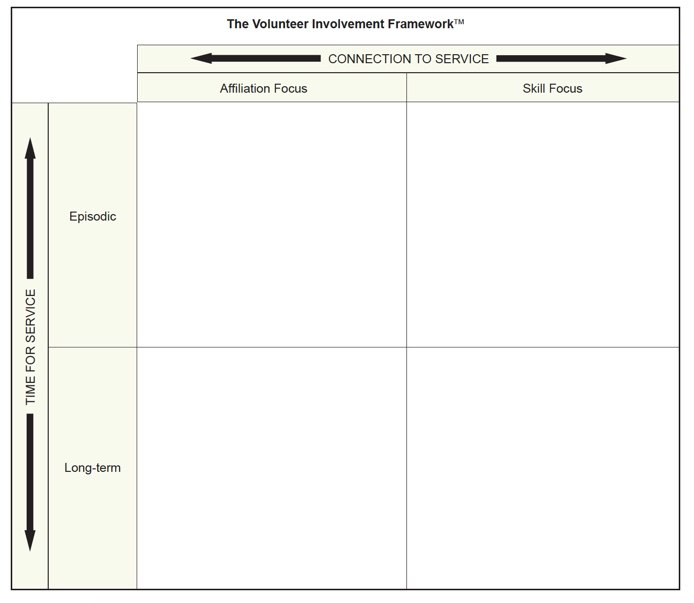 This framework can facilitate the creation of job descriptions that are accurate, measurable and match the EMS agency's goals and expectations while addressing the affiliation versus skill interest of potential volunteers.
4. Making a meaningful experience
Non-profit and public sector organizations recommend these four best practices to create a meaningful experience and retain great people.
Job design: Position descriptions with clearly outlined duties and definitions of how success is measured.
Onboarding: Detailed orientation to the organization and the role the volunteers will provide. Opportunity to have a "meet and greet" with other volunteers and, if appropriate, mentors to welcome them and provide the information they need to succeed.
Learning and development: Ongoing training and professional development opportunities that are linked to advancement within the organization.
Culture of appreciation: Ongoing recognition is key to retaining volunteer caregivers and support staff. Combining both formal and informal methods of recognition creates a culture of appreciation where members feel respected and valued for their contributions and have a deeper sense of connection with the organization and the mission [5].
Volunteers want choice, control, good customer service, supervision, clear job descriptions, recognition, training and perks. They want to feel that they are appreciated [6].
Engaging caregivers in resetting the organizational goals and expectations can focus attention on what is important now and in the near-future. Establishing different titles with detailed job descriptions will provide the framework of relationships between caregivers.
Utilizing the four best practices to create a meaningful experience will allow a combination organization to thrive.
References
1. Rehnborg, Sarah Jane (2009 May) Strategic Volunteer Engagement: A Guide for Nonprofit and Public Sector Leaders. Austin, TX: RGK Center for Philanthropy & Community Service http://www.volunteeralive.org/docs/Strategic%20Volunteer%20Engagement.pdf
2. Post, Carl J. (2002) Omaha Orange: A Popular History of EMS in America, 2nd edition. Jones and Bartlett.
3. Kerr, Helen (2008) "Today's bariatric trends." iAdvance Senior Care. http://www.iadvanceseniorcare.com/article/todays-bariatric-trends
4. Ellis, Susan J. (2010) From The Top Down: The Executive Role in Successful Volunteer Involvement. 3rd edition. Philadelphia: Energize Inc. www.energize.com
5. Rosenthal, Robert J. (ed) (2015) Volunteer Engagement 2.0: Ideas and insights changing the world. Hoboken, NJ: John Wiley & Sons.
6. The Volunteer Management Handbook: Leadership Strategies for Success (2011). Wiley.
About the author
Michael Ward, a senior associate with Fitch & Associates, has more than 40 years of experience in the emergency care industry. He retired as the acting EMS chief from a large fire and rescue department, has served as executive director of a hospital-based 911 paramedic and medical transportation service and was an assistant professor and program director at a university medical center. He lives in the Washington, D.C. suburbs.