Fighting overdose with fentanyl test strips programs
Learn how the test strips work, how much they cost and get some resources for establishing a fentanyl test strips program targeting overdose reductions
---
By Andrea Fox, Gov1 Senior Editor
In June, the Yale School of Medicine's Community Health Care Van began training New Haven, Conn. drug users to test their drugs for the presence of several types of fentanyl, including carfentanyl, with fentanyl test strips purchased online from Canadian diagnostics company, BTNX, Inc.
Anecdotal results indicate drug users that find fentanyl present with the test strips opt to take far less of their drugs, and thereby avoid overdose.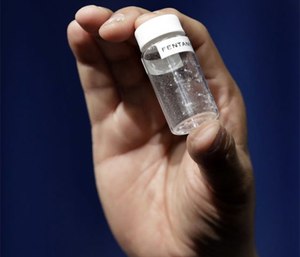 The fentanyl test strips have the potential to lower overdose death rates, reduce naloxone costs and EMS calls and raise awareness about the prevalence of synthetic fentanyl among opioid drug users.
Proactive Strategy to Address Lethal Fentanyl's Prevalence 
Sharon Joslin, clinical coordinator with Yale, said she learned from a U.S. Drug Enforcement Agency presentation at a recent substance abuse conference that for the cost of $4,000 to $5,000 for a pill making machine — which is a manual press attached to a hopper that creates pills — an enterprising drug dealer willing to work with cheap fentanyl imported from China by carrier can make $5 to $7 million selling to heroine and prescription opioid addicts.
The pill press can make fentanyl drugs that look like prescription OxyContin, she said.
Fentanyl is so lethal, a 10-year old Miami child is believed to have died recently by coming into contact with it at a swimming pool or when he walked home. A new Florida law going into effect on October 1st imposes mandatory sentences on dealers caught with 4 grams (0.14 ounces) or more of fentanyl variants, and dealers can be charged with murder if they provide a fatal dose.
Yale's free clinic program serves about 2,500 adult drug users annually in New Haven between its office, medical mobile van and transport minivan. It began 23 years ago through Ryan White Foundation Program funding and targets HIV reduction in IV drug users. The program's mission is to find new clients and exchange dirty needles for clean ones, get patients into care and transport them to health appointments when mobility is a barrier.
In January, the program received a state grant to take over the New Haven Syringe Program. In the first four months serving citywide, needle exchanges quadrupled. Joslin said van staff is trained to administer Suboxone, a prescription drug containing both buprenorphine and naloxone used to treat opioid addiction, and also gives out naloxone. But a public health resident recently suggested they try a more proactive approach to reducing overdose deaths caused by fentanyl — fentanyl test strips that the St. Ann's Corner of Harm Reduction in the Bronx, New York City, began distributing last December.
The van's first 30 fentanyl test strips were donated, and within a month, a box of 50 that cost $250 were gone. Joslin said she was not sure initially how quickly the program would go through them, but the drug users that come to the van for services want them.
Test Strips Cost and Usage
The strips are not approved by the U.S. Food & Drug Administration, although they are approved by similar overseeing administration's in Canada and internationally.
The cost is about $1 per test strip.
Van Asher, St Ann's syringe access program manager, said it's worth the cost, and he just ordered another supply of 700.
He said he tested similar, less expensive fentanyl test strips made in China, but found they were not as effective. The BTNX test strips currently test for carfentanyl, acetyl-fentanyl, butyryl-fentanyl and 3-methylfentanil.
Asher said a third-party is currently verifying how effective the test strips might be at detecting furanyl-fentanyl, ocfentanil and remifentanil, and results are imminent.
Originally designed for urinalysis, the test strips are a 15-second dip test that provides a yes or no answer in less than one minute, he said.
Joslin said they can be used to test pills, which many drug users cut up to inhale, by mixing the chopped substance with a little water.
Test Strips Anecdotal Impact
A former EMT and EMS dispatcher, Asher said he advocates for safe use spaces because they can save a life faster than an ambulance hailed upon overdose. While BTNX recommends using their products in a medical setting, St. Ann's, the first program in the U.S. to try the fentanyl test strips, gives them out.
Data on impacts, such as measured fentanyl overdose death reductions, are not yet available. But Asher said drug users are coming back and telling him that the test strips, at times in concert with the naoloxone, saved their lives.
Anecdotally, he has also heard that the fentanyl test strips are working their way up the dealer chain, possibly initiating conversations or searches for street opioids that do not contain fentanyl analogues.
Test Strips Program Resources
While the test strips don't usually prevent using drugs that contain fentanyl in the Bronx and New Haven, they are sought after by drug users to help them minimize overdose risks by essentially limiting dosage.
Asher gives drug users a questionnaire along with information about fentanyl risks, and cards on how to use the fentanyl test strips. He shared the following downloadable resources:
Fentanyl Test Strips Instructions 
About the author
Andrea Fox is Editor of Gov1.com and Senior Editor at Praetorian Digital. She is based in Massachusetts.