Seize the opportunity to share department successes
We may be humble public servants, but that doesn't mean we can't spotlight our impact, particularly when the public is paying attention
---
Firefighters, EMS personnel, police officers – we run in where others are running out. Our adrenalin surges, and we go from zero to 60 in an instant. This is a big reason why there's a National First Responders Day – to recognize these acts of bravery.
Now, it doesn't matter whether you like the term first responder. What matters is that you're there and you act when you're needed in the best interest of the communities you serve.
We know that fire and EMS departments across the country are highly regarded by their communities, but in 2017, Congress went one step further, designating Oct. 28 as National First Responders Day. The resolution honors the stresses and sacrifices of firefighters, police officers, EMTs and all those who are first on our scenes.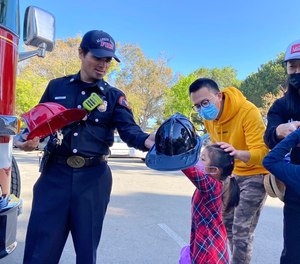 The complicating factor here is that many first responders are so conditioned to deflect gestures of praise or recognition that we fail to realize the value of occasionally stepping into the spotlight. Sometimes we need to seize the opportunity to highlight the great work of our members – and National First Responders Day is one such opportunity.
Be an inspirational advocate
Firefighters and EMS providers are generally very humble public servants, shying from the limelight in favor of continuing to respond to calls "unnoticed." But the truth is that our communities do notice that humility, which only bolsters the positive image our citizens have about fire and EMS personnel.
Seizing the opportunity to support this effort harkens back to the concept of the fire chief as an "inspirational politician." It might not feel like supporting National First Responders Day produces immediately tangible affects for the boots on the street. However, garnering support for your department is a critical part of the political process. Whether it is support during the budget process, in recruitment efforts, or while seeking feedback from your community, seizing the moment with your community – like a day dedicated to first responders – is absolutely critical for success.
While the chief should be a staunch advocate for the department, it's not just the chief's responsibility to be an inspirational politician. Each of us has a responsibility to spotlight the good work of the department. This includes not only maintaining the public trust but also understanding how the nuances of relationship-building and politics intertwine to make our communities run.
While public trust is a nebulous concept for some, it can be achieved simply by doing the right things. Note: This must go beyond developing a mission/vision statement that extols some virtuous ideas. At the end of the day, doing what's right is really not that difficult. It's important to understand that doing what's right also means recognizing and condemning those within our ranks who do what's wrong.
Beyond days of appreciation
National First Responders Day recognition is important. It's OK to be humble – just understand that these recognitions are likely the moments when the public is paying more attention than we realize – and we need to step up and show them who we are and what we represent. This can only help grow that public trust, which will pay off down the line when we need their support, whether it's for a new station, improved PPE or something else that our citizens don't know much about in general, but they'll trust us enough to feel good about supporting the effort.
You've likely heard the phrase, "Never let them see you sweat." Well, I'll leave you with something a bit more applicable: "ALWAYS leave them with a positive impression." Humility and positivity will pay dividends 10-fold when we need support for things beyond days of recognition and appreciation.