FDA approves first over-the-counter naloxone nasal spray
FDA Commissioner Dr. Robert Califf cited "the dire public health need" for the opioid antagonist
---
By Paul Liotta
Staten Island Advance, N.Y.
STATEN ISLAND, N.Y. — A life-saving drug used to reverse the effects of overdoses will be available over the counter nationwide for the first time, the Food and Drug Administration (FDA) announced Wednesday.
Pharmacies will make four milligram doses of Narcan, the brand name for a naloxone hydrochloride nasal spray that acts as an opioid antagonist, available for purchase without a prescription, according to the federal agency.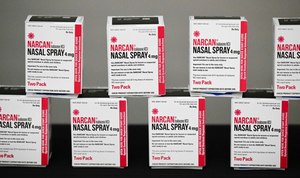 FDA Commissioner Dr. Robert Califf said the move from his agency will help improve access to the life-saving drug, and save lives.
"The FDA remains committed to addressing the evolving complexities of the overdose crisis," he said. "As part of this work, the agency has used its regulatory authority to facilitate greater access to naloxone by encouraging the development of and approving an over-the-counter naloxone product to address the dire public health need."
While the FDA approved the drug for over-the-counter sales, it's unclear when the product will be available that way nationwide as its manufacturer, Emergent BioSolutions, will need to determine the medication's availability and price, according to the federal agency.
Narcan had previously been available without a prescription at many pharmacies around the nation, including in New York City, but often required a request form be filled out. The FDA's announcement will provide for a more uniformly over-the-counter availability around the nation.
Last year, New York State Health Commissioner Dr. Mary Bassett signed a standing order, effective Aug. 15, that made Narcan available at more than 2,600 pharmacies across the state without a prescription.
Dr. Patrizia Cavazzoni, director of the FDA's Center for Drug Evaluation and Research, said the agency is working to ensure continued access to naloxone as it transitions to over-the-counter status.
"Naloxone is a critical tool in addressing opioid overdoses and today's approval underscores the extensive efforts the agency has undertaken to combat the overdose crisis," she said. "The FDA is working with our federal partners to help ensure continued access to all forms of naloxone during the transition of this product from prescription status to nonprescription/OTC status. Further, we will work with any sponsor seeking to market a nonprescription naloxone product, including through an Rx to OTC switch, and encourage manufacturers to contact the agency as early as possible to initiate discussions."
___
(c)2023 Staten Island Advance, N.Y.
Visit Staten Island Advance, N.Y. at www.silive.com
Distributed by Tribune Content Agency, LLC.
McClatchy-Tribune News Service