Weekend of Honor's Moving Honors procession makes its way from Dallas to Virginia
The dedicated ambulance will make stops along the way for EMS professionals to pay respect to lost colleagues
---
By Jessie Forand
DALLAS ­— They're off — the Moving Honors event, part of the 2021 National EMS Weekend of Honor, departed from Dallas earlier today and will drive to Arlington, Va., before next weekend's gathering.
A ceremony Friday was hosted by Global Medical Response at its Lewisville office.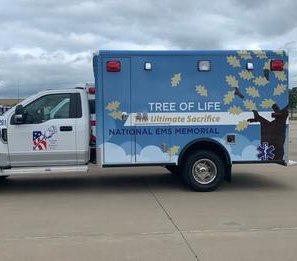 "It is an honor to sponsor and host the commencement of such a deeply important event for the EMS industry," said Ted Van Horne, Chief Operating Officer for Global Medical Response. "We mourn the loss of these 144 brave souls and remember their service. This has been a challenging and unprecedented year with an unwavering, valiant response by thousands of EMS professionals. As a country, as EMS professionals and as brothers and sisters, we want to honor those who paid the ultimate sacrifice."
Related: Schedule set for this month's National EMS Weekend of Honor event
The Moving Honors ambulance is carrying a Tree of Life featuring the names of the 144 fallen EMS ground and air medical professionals who will be honored during the July 23-25 Weekend of Honor event. The name, agency and date of death is engraved on a bronze oak leaf, hung on the custom-built oak tree memorial, a symbol of strength, according to a press release.
On its way to Virginia, the ambulance will make stops along the way so that the country's EMS personnel can pay tribute to their fallen colleagues, current and historic.
When it arrives on July 23, the Moving Honors procession will be met by the National EMS Bike Ride's Ride of Honor, kicking off the weekend's events.
Related: Teddy Bear Project hopes to comfort kids during National EMS Weekend of Honor events
"I was happy to have the opportunity to give back to my profession by taking an active role in creating the memorial that would honor those who died in the line of duty," said Jennifer Liebman, artist and Clinical Manager for Global Medical Response. "The most rewarding part of my involvement in creating the memorial has been witnessing the part that it plays to help loved ones heal and connect them with others that have experienced similar loss."