Schedule set for this month's National EMS Weekend of Honor event
After last year's COVID-19 cancellation, the ceremonies will return to Arlington July 23-25
---
By Jessie Forand
Washington, D.C. — When the COVID-19 pandemic canceled plans around the world last summer, the National EMS Weekend of Honor was no exception. 
This month, though, it's back, with a weekend to honor those who died, recently and historically.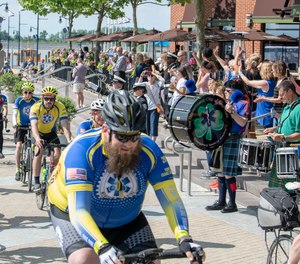 144 people will be remembered, including 48 from 2020, 24 from 2019 and 72 others dating as far back as 1895. 
Two of the three days' events will be open to the public and media. On Friday, July 23, the Moving Honor ambulance, escorted by the National EMS Memorial Bike Ride's Ride of Honor, will arrive on site. Then the EMS Tree of Life will be unveiled and dog tags will be presented to families. 
The following evening, the formal National EMS Memorial Service will honor EMS and air medical professionals who died. This will also be live-streamed. 
Both events will take place at the Hyatt Recency Crystal City. 
Therapy and comfort dogs will be on-site, as will grief support teams to help families and volunteers. 
Related: Teddy Bear Project hopes to comfort kids during National EMS Weekend of Honor events
The Weekend of Honor is organized and hosted by volunteer-staffed groups including the National EMS Memorial Bike Ride, National EMS Memorial Service and the National EMS Memorial Foundation. 
Visit the National EMS Service's site for more.