Mourners gather at funeral service for Chicago Firefighter-Paramedic Jermaine Pelt
Hundreds gathered; a minister called the service a celebration of life and asked mourners to their neighbor and give them a "Jermaine-type" smile
---
By Nell Salzman, Angie Leventis Lourgos
Chicago Tribune
CHICAGO — As "Amazing Grace" played softly, hundreds of mourners gathered on the city's South Side Friday to say goodbye to Chicago Firefighter Jermaine Pelt, who died of smoke inhalation while battling a fire in the West Pullman neighborhood last week.
Two firetrucks adorned with flowers and an American flag parked outside the 11 a.m. funeral service at House of Hope, following a procession from Blake-Lamb Funeral Home in Oak Lawn. A banner with Pelt's smiling face hung over the parking lot. It read, "In memory of Jermaine A. Pelt who died Tuesday April 4, 2023″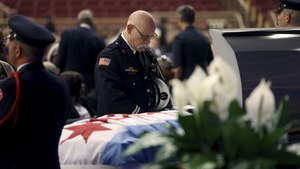 Inside the church, Pelt's body was in a silver casket draped with a Chicago flag. Minister and officiator Ron Roby directed everyone in the audience to stand except for Pelt's mother and father.
"When you have a great brother like Jermaine, you have to recognize he came from great stock," Roby said.
Roby called it a celebration of life. He told members to turn to their neighbor and give them a "Jermaine-type" smile.
Pelt's funeral came just one day after the city grieved another firefighter killed in the line of duty.
On Thursday, hundreds of mourners gathered at St. Joseph Ukrainian Catholic Church in Chicago to remember veteran Chicago firefighter Lt. Jan Tchoryk, 55, who died fighting an extra-alarm blaze at a Gold Coast neighborhood high-rise on April 5, the day after Pelt's death.
The department has called the back-to-back losses "unprecedented."
Pelt was raised in the West Pullman neighborhood and walked his only daughter down the aisle at her wedding last fall.
The Chicago Fire Department, suburban Depts, & out of state Depts, & Chicago Police Dept members honored fallen Firefighter Jermaine Pelt during a final walk through this evening at Blake-Lamb Funeral Home. pic.twitter.com/P6Eisi6nlP

— Chicago Fire Media (@CFDMedia) April 14, 2023
The firefighter's father, John Pelt, has described his son as smart, ambitious and "the kindest person I've ever met."
Pelt graduated from Corliss High School and attended Olive-Harvey College. He recently became an instructor at the city's fire academy and was also a registered nurse and paramedic. Hundreds of firefighters attended a visitation for Pelt on Thursday in Oak Lawn.
Capt. Rory Ohse, who worked alongside Pelt, told the Tribune he "had a devotion to this job and this neighborhood."
©2023 Chicago Tribune.
Visit chicagotribune.com.
Distributed by Tribune Content Agency, LLC.
McClatchy-Tribune News Service