When the guns go silent: how to manage the aftermath of a mass shooting
Emergency management concerns for the hours and days following an active shooter event
---
Mass shootings have increased in frequency since the Pulse nightclub shooting. Within the span of a week, several people were wounded and 34 people were killed in three recent active shooter events; 22 in El Paso, Texas; 10 in Dayton, Ohio; and three in Gilroy, California. Learn more about what EMS agencies should take away from these tragedies with expert analysis from industry leaders.
By Sean Hulsman
It was a crowded night at the popular Pulse Nightclub in Orlando, Florida, when a series of tragic events unfolded. Those events taught the emergency management community much about response to an active shooter event. On June 12, 2016, at 2 a.m., the drinks and dancing at the Pulse were savagely interrupted by violent deadly behavior. A shooter armed with several firearms entered the club and began killing. In the aftermath, 49 patrons lay dead and 53 others sustained injuries ranging from scrapes to gunshot wounds.
While there is significant debate about the regulation of firearms, there is no disagreement that mass shootings are a reality in our culture, and emergency responders need to be prepared to handle them.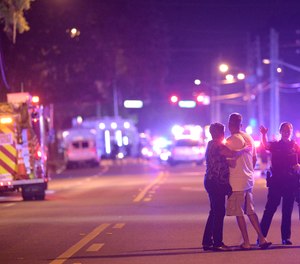 With the advent of the rescue task force concept, responders across the country are training to handle the initial response to such incidents. Law enforcement addresses the threat(s); firefighters handle hazmat, fire and structural instability; and EMS works to triage patients and move victims to a collection point for eventual transport.
Much has and continues to be done to prepare emergency crews for the immediate response phase of an MCI event, and we will see some systems expertly handle mass shooting events and the life-threatening injuries that result. However, there is another aspect to these incidents which is often forgotten: the aftermath.
While street-level responders will generally have only a supporting role in the aftermath, emergency services leadership and local, state and even federal agencies will be handling the investigation and ongoing response. Agencies which haven't experienced an MCI of this magnitude may be surprised at how much there is yet to do after the perpetrator has been neutralized and the injured are all treated and transported.
Managing the chaos of a mass shooter event
Scott Fryberger, with the Florida Department of Health, was working in Orlando when the Pulse incident occurred. Fryberger spent days wading through the bureaucracy of the post-shooting, and has shared his experiences with hospital systems, municipal leaders and anyone else who would benefit from his knowledge. He has graciously granted us permission to share some of what he learned during the trying day of, and the days following this very difficult event.
Fryberger reports that several immediate factors came into play when the shooting was occuring and people were fleeing the scene. To begin, the 911 call center in Orlando was inundated with over 600 calls about the incident in the first three hours. There were calls from bystanders, from terrified people inside of the club, and even from friends and family of patrons who were calling on behalf of their loved ones. This placed significant a burden on the dispatchers who were trying desperately to make sense of the chaos while simultaneously dealing with the standard 911 phone traffic that happens every day.
From there, the initial response was hampered to some degree by the things that we can all imagine:
Conflicting reports on the number of shooters
Injured persons transported in civilian vehicles to the regional trauma center two blocks away without pre-notification
Certain streets leading to the trauma center being closed by police as part of the crime scene, which resulted in EMS having to re-route to and from the incident
People gathering at a local fire station seeking help amid confusion and concern regarding the location of the shooter
These factors are part of the expected chaos in the early stages of any incident of this magnitude. Responders eventually navigate through these complications and begin to get the scene under control – and that is exactly what happened in Orlando. Within three hours, the shooter was dead, the wounded were evacuated, and all that remained was the investigation and cleanup. Unfortunately, this is where difficulties began to escalate for Fryberger and his colleagues.
Picture a scene in which 49 people lay dead in a non-air-conditioned building in the Orlando summer. Clearly, there was a time crunch to get these victims moved with speed and respect to a morgue – yet there was still an investigative process which needed to be completed. Add to the tension the media was descending upon the area by the hundreds, and frightened family members and friends were swamping the local hospital, and it's easy to begin to appreciate the coordination and logistics that needed to come into play.
Summarizing Scott Fryberger's wonderful and sometimes emotional accounts of this tragedy does not do justice to the human aspect of what happened at Pulse that night, however, the key takeaways he has provided may help your agency handle the days and weeks following such an event.
1. Prepare for the media onslaught
The media can make or break the public's perception of how a disaster of this magnitude is being managed. Early on, it is imperative to provide the media an access point which is near enough to the scene to provide a good backdrop, but not so close that it interferes with the recovery efforts and investigation process.
As media outlets arrive with tents and equipment, law enforcement needs to position them in an optimal site. Administrators must plan for the media storm and establish an individual or team of individuals who will provide information and hospitality to journalists and photographers. News media will appreciate being met halfway, and can often be important partners during the immediate fallout after an MCI.
2. Devote resources to family support
Over a thousand family members and friends of the victims soon made their way to Orlando. Initially, they crammed into the Orlando Regional Medical Center (ORMC), the only Level One trauma center in the area and the destination for many if not most of the shooting victims.
As the ORMC was only a few blocks from Pulse, hospital staff had little warning of the impending cascade of serious injuries heading their way. They then experienced an even larger influx of distraught persons desperately seeking news on their loved ones.
By all accounts, the ORMC staff masterfully handled the medical side of the challenge, but were overwhelmed by the crowds of people who needed information and sometimes psychological first aid.
Eventually, a family information center was set up near to, but outside of the hospital, which allowed for the families to get updates and assistance without hindering the hospital's capacity to function properly.
3. Consider the logistics of handling casualties
Many people tragically perished in this incident, their bodies lying broken in the rooms and corridors of the tattered building. As the law enforcement investigation progressed, immediate identification of the fallen was not always possible, but the summer heat made hastening the recovery process that much more pressing.
In a stroke of luck, the District Nine Medical Examiner's Office happened to have a large capacity to store bodies in appropriate temperature control. The grim task of recovering these people could have been much worse had there not been immediate access to a refrigerated facility of adequate size.
Additionally, the Florida Emergency Mortuary Operations Response System (FEMORS) provided additional medical examiners, autopsy staff and data collection personnel. The handling and storing of bodies is an integral piece of any mass-shooter response plan.
4. Recognize the physical and mental needs of responders
The men and women who worked the scene faced the stuff of nightmares. Fryberger recounts the haunting sound of dozens of cell phones ringing out in the darkened club as people tried in vain to contact friends and family members who were deceased. The psychological assault – the sights and sounds and smells – made any physical effort pale in comparison.
Additionally, temperatures reached 90 degrees that day, and winds capped out at a stagnant five miles per hour. The upshot is that responders needed a place of respite to get out of the sun, collect themselves and cool off. The Central Florida Disaster Medical Coalition responded with supplies, including two air-conditioned rehab tents for those working the scene. In post-MCI environments, plans must be in place to shelter, feed or perhaps even sleep responders. Mental health support for people working the scene should also be a top concern.
5. Expect a continued hospital surge
ORMC was overrun by media not just on June 12, but in the days following the event as well. Furthermore, the number of daily hospital visitors increased exponentially. These factors, combined with the acuity of the shooting victims, forced the hospital to call in reserve personnel in all areas.
Orlando Health CEO David Strong credited ORMC's exceptional response to MCI training they had conducted just three months earlier. Simulations are important training tools, and both emergency responders and hospital systems, especially regional trauma centers, should engage in collaborative training to prepare.
6. Search social media for public gatherings and vigils that may require standby units
Fryberger stated that one of the unexpected aspects of the aftermath in Orlando was the sudden organization of mass vigils. People – sometimes numbering in the thousands – would descend upon a public park or other location after a vigil was announced on social media.
While these gatherings were mainly heartfelt, peaceful events, the logistics of managing a crowd of thousands is not an easy task. Law enforcement and EMS standby is generally required for planned events with large numbers of people, but these events were not planned through a government agency.
There is always the possibility that people in a hot crowd of thousands might experience medical emergencies. Also, the event at Pulse was politically charged (an attack at a nightclub frequented by members of the LGBTQ community, perpetrated by someone who claims allegiance with terrorist extremists). The potential for additional problems was a valid concern.
By monitoring social media, local emergency services can be tipped off to these events ahead of time and facilitate appropriate standby units.
7. Source for ongoing family assistance
After notifications were made to families of the deceased and injured, there was need for continued assistance. Mental health professionals were utilized for acute grief-related issues, and social services worked to help out-of-town family members with arrangements for temporary shelter, which were still open and staffed months later.
In planning for a potential active shooter event, a system of support for the families and friends of the victims, especially those who may be coming in from another region or even from other states must be considered. Potential long-term bureaucratic processes may also be needed.
Maintain vigilant foresight
We train hard and often for these taxing events, but that training generally revolves around the immediate response to a scene. As we can learn from the Pulse tragedy, there is much more involved in the full handling of an incident of this magnitude.
Local agency leaders, healthcare systems and even politicians should be well-versed in the myriad challenges they may face, and should maintain vigilant foresight in case the unthinkable happens within their jurisdictions. Picking the brains of emergency response leaders like Scott Fryberger would be a good place to start.
About the Author
Sean P. Hulsman, M.Ed, EMT-P, is director of education, Twin City Ambulance Corporation, Amherst, New York.