'No wrongdoing' found in $103K deficit in Sandy Hook fund
The fund was created to support teachers, EMS providers and other first responders present at the shooting
---
Christopher Keating
The Hartford Courant
HARTFORD, Conn. — More than $100,000 went missing from a special fund to help first responders and teachers who were at Sandy Hook Elementary School on the day a gunman killed 26 people there in 2012, but an investigation found no wrongdoing, angering Republican lawmakers.
Although the Sandy Hook Worker Assistance Program was created by an act of the state legislature, it was privately funded and overseen by the charitable arm of the state AFL-CIO labor organization. The missing money was later paid back by the labor group, which said that it came as a shock. All money has been restored, officials said.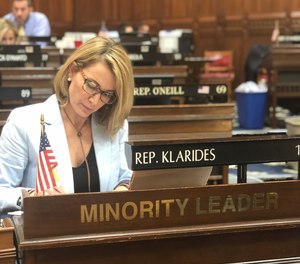 House Republican leader Themis Klarides of Derby said the matter still has many unanswered questions following an interim audit that was conducted by state auditors. She said it is "very disappointing'' that the state attorney general's office investigated the matter for seven months and found no wrongdoing.
"I would hope that anybody else who saw $103,000 missing would not conclude that this was resolved to our satisfaction,'' Klarides told reporters at a news conference Thursday.
"I don't think Bernie Madoff had that opportunity to say, 'I'll put the money back,' '' Klarides said, referring to the former Wall Street investor who is now in prison. "That money should be in one place. We should know where the money is going. We should know what the money is being used for. This is very important to this state. This is very important to that town. This is very important to the people of the state of Connecticut.''
Sal Luciano, the president of the state AFL-CIO and the president of its charitable arm, said he was stunned by the developments.
"The state auditors' report came as a shock and a disappointment to me and the rest of the board of the United Labor Agency,'' Luciano said. "As soon as we learned about the results of the audit, the board met and took immediate corrective action.''
The funds have been restored in full to $103,712, officials said.
"To be clear, as the state auditors verified, no worker, whether they were union or non-union, was denied benefits through this program,'' Luciano said.
The money had been set aside to help teachers, troopers, ambulance personnel and other educators who were present at the shootings in Newtown that shocked the nation.
———
©2019 The Hartford Courant (Hartford, Conn.)
McClatchy-Tribune News Service