LODD: Pa. firefighter-EMT dies weeks after suffering stroke during medical call
"This is a tremendous loss to the community," the Upper Perkiomen Valley Ambulance wrote about Jay Miles
Duty Death: Jay Miles - [Pennsburg, Pennsylvania]
End of Service: 04/01/2023
---
By Leila Merrill
FireRescue1/EMS1
PENNSBURG, Pa. — Upper Perkiomen Valley Ambulance EMT Jay Miles died Saturday after suffering a severe hemorrhagic stroke while responding to a call on March 13, the agency announced.
The stroke occurred after Miles and Paramedic Kevin Bennett loaded the patient onto a litter. Bennett rendered aid and called the dispatch center to request additional crews.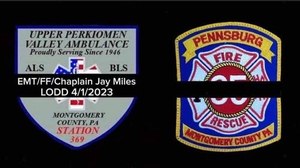 Two ambulance services, a fire department and UPVA's chief responded.
Miles was transported to Lehigh Valley Hospital – Cedar Crest, where he underwent surgery immediately.
He succumbed to his injury on Saturday.
Miles also served with Merck EMS, and as a firefighter with the Pennsburg Volunteer Fire Company, where he was a chaplain.
"This is a tremendous loss to the community. For all the lives he's touched, inspired and cared for throughout the years. We'll miss your smile, laugh, compassion , care and your stories. Fish for the big one and we'll meet again someday, UPVA wrote in a Facebook post.
The fire department described what Miles meant to people.
"Jay became chaplain at Pennsburg in 1993, serving Pennsburg and surrounding companies. Jay was a firefighter, driver, EMT, board member and life member. Jay you will be missed severely by all who came in contact with you."