Fla. county eliminates $1.2M private ambulance service subsidy
Commissioners in Sumter County voted to transfer EMS dispatching duties from AMR to the county
---
By Jessie Forand
LAKE SUMTER LANDING, Fla. — A $1.2 million subsidy agreement between Sumter County, Florida, and American Medical Response for ambulance service will end on Oct. 1.
In a contract change, dispatch duties will transfer from AMR to the county, Villages News reported. The overall contract will end on Oct. 1, 2022.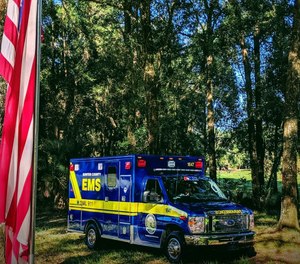 The county's ambulance service was provided by Rural Metro and AMR, both private companies, for about a decade. Alleged response delays have caused negative reactions to AMR's parent company, Global Medical Response, Villages News reported, which the company said was caused by pandemic-related staffing shortages.
Other agreement changes include:
A five-minute grace period for ambulance arrivals if fire departments arrive at a scene first.
Requiring 70% of ambulances to be staffed by advanced life support paramedics
New time parameters for responses in accordance with Florida's Baker Act, which allows someone deemed to be a threat to others to be committed to a mental health facility
Response time standard exemptions from AMR for challenges including hospital delays, severe weather, dispatch errors or traffic blockages