W.Va. EMS leaders relay financial, equipment, staffing needs for county
"We've had the opportunity to collect some money because of COVID that we can assist with," Preston County Commissioner Samantha Stone said
---
William Dean
The Dominion Post
KINGWOOD, W.Va. — Leaders from four EMS services in Preston County met with the Preston County Commission to discuss their immediate and future needs at a work session last week.
The purpose of the meeting was to make the commission aware of the needs of the EMS services, said Commissioner Dave Price, who has been meeting with the departments individually.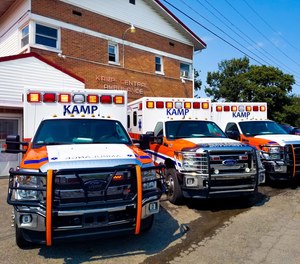 During previous discussions on uses for the county's roughly $922,000 in money from the Coronavirus Aid, Relief and Economic Security Act, Price said he wants to spend at least $400,000 to enhance EMS services in the county.
"We can sit and say that COVID has caused a whole lot of bad but one good thing that has come from it is that we've had the opportunity to collect some money because of COVID that we can assist with," commissioner Samantha Stone said.
One takeaway from the work session is that nothing comes cheap. Bruceton Ambulance Service had to pay $64,000 to replace heart monitors. President Peggy Gunnoe said the service doesn't have that kind of money upfront and the monthly payment is almost $1,900.
Pam Thomas, of Kamp Central Ambulance Services, said their heart monitor replacements cost $48,800 for a monthly payment of $1,144.
Those costs are in addition to regular monthly expenses such as insurance and payroll.
Gunnoe said if her service got help with those payments they would try to give raises to their people in an attempt to retain and recruit workers — of which there are fewer and fewer. At Bruceton, drivers start at $10, EMTs at $12 and medics at $15.
"Eventually I really believe seriously that Preston County is going to have to, the commission is going to have to have some kind of a fee. That would be based on each household or general terms that's what I'm saying, each business or household. And I hope it's not much. But it would be something that everybody contributes."
Stone said while the CARES money needs to be taken advantage of to help with immediate needs it's not a renewable resource and she believes the commission is dedicated to setting up a system to help the services.
EMS services across the country, including the ones that serve Preston County, rarely collect the full bill for their services. Thomas said she budgets anticipating 50 %-60 % payment. In 2020, Kamp collected about $500,000 less than it billed.
Commission President Don Smith asked the services to provide five years of that data to assist in figuring out what the average yearly shortfall is and what the EMS fee should be. He also said the fee needs to consider inflation and have a mechanism for automatic increases.
___
(c)2021 The Dominion Post
McClatchy-Tribune News Service