Pa. governor proposes $36M budget boost for state's fire, EMS departments
County 911 centers would receive $50 million in a separate parcel to address their staffing shortages
---
By Jesse Bunch
The Philadelphia Inquirer
PHILADELPHIA — As Gov. Josh Shapiro shook hands with Philadelphia firefighters on Wednesday, the region was mourning its latest deadly fire.
Earlier this week, a deadly rowhouse blaze in Upper Darby claimed the lives of two 5-year-old girls, Eva and Ava Brown-Williams, in the early-morning hours while they slept.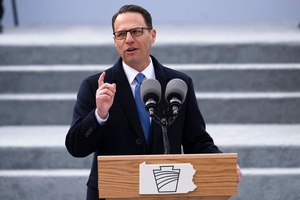 The twins join a growing list of fire victims across the Philadelphia region — where the loss of 12 people in last year's Fairmount fire remains fresh on the minds of fire officials — while the federal government launches a sweeping plan to address blazes that killed 276 children nationwide last year.
Crews responding to these incidents are in need of critical funding, according to Shapiro.
"People have a right to both be safe and feel safe, here in Philadelphia and across this commonwealth," Shapiro told The Inquirer following his visit to Engine 1, a station along South Broad Street in Hawthorne. "One of the ways we can assist with that is making sure we have an adequate number of firefighters, police officers, 911 operators, and others."
To meet those demands, Shapiro — who's in the midst of his first budget proposal since assuming office in January — is suggesting a $36 million boost to the state's allotment for fire and ambulance services' equipment, training, staffing, and salaries.
That would bring funding up to $127 million, while county 911 centers would receive $50 million in a separate parcel to address staffing shortages of their own.
Shapiro acknowledged challenges faced by Philadelphia's Fire Department, which staffs the city's firefighters, EMTs, and paramedics.
A 2022 Inquirer report found the department faced a 700-person shortfall as it saw a cascade of retirements. It went over a year and a half without a new class of firefighters and paramedics, the report found, while some responders were doubling up on responsibilities.
The Fire Department declined to comment.
Meanwhile, fire crews statewide are requesting safety equipment that Shapiro said his budget would help fund.
Wearing a crisp white shirt, the governor spoke with firefighters who eagerly rattled off facts about one of the station's newer, freshly washed trucks.
But despite the shiny engine, Shapiro said crews told him they needed more equipment for decontamination, the process of removing cancer-causing chemicals from their gear in the aftermath of a blaze.
Public safety investments are just one tenant of the $44.4 billion budget the governor introduced in Harrisburg last month, one that would boost public education spending and adopt a $15 statewide minimum wage while slashing taxes for businesses.
Coming off of recent visits to fire crews in Lancaster and Altoona — the latter where Republican officials cautiously lauded his commitment to public safety — Shapiro was confident that he could work across the aisle to enact a budget ahead of the June 30 deadline.
"I look forward to working with them to get this done," Shapiro said.
___
(c)2023 The Philadelphia Inquirer
Visit The Philadelphia Inquirer at www.inquirer.com
Distributed by Tribune Content Agency, LLC.
McClatchy-Tribune News Service