NY county leader proposes up to 20% hazard pay for front-line workers
The request comes after Monroe County received $140 million in federal aid for COVID-19 response
---
By Laura French
MONROE COUNTY, N.Y. — A New York county leader has urged lawmakers to approve hazard pay of up to 20% for county workers at risk of COVID-19 exposure. 
Monroe County Executive Adam Bello called for a temporary pay increase for more than 2,400 workers after the county received about $140 million in federal aid to manage the pandemic, according to the Democrat & Chronicle.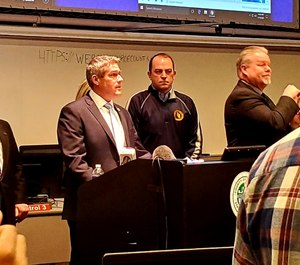 Bello's proposal would provide hazard pay between 10 and 20%, retroactive to April 4 and continuing until the county's state of emergency declaration is lifted. The cost of the program would be about $542,000 per pay period. 
Of the federal aid received by Monroe County, approximately $129 million in CARES Act funds will be used for pandemic response between March 1 and Dec. 30, while the rest will go toward sustaining the Greater Rochester International Airport and providing PPE for personnel at Monroe Community Hospital. 
"Republican legislators have been working with the administration on the concept of hazard pay for county employees and are looking forward to addressing this matter at our special meeting (set for Wednesday)," Monroe County Legislature President Joe Carbone, R-Irondequoit, said in a statement to the Democrat & Chronicle. "Our front-line workers including nurses, police officers, firefighters, and hospital employees are deserving of compensation commensurate with the risk they are undertaking to serve our community during these trying times."