Mo. governor: Lack of federal stimulus could jeopardize hazard pay
So far, Missouri has used about $10 million in federal relief funds to provide hazard pay to front-line workers, including first responders and healthcare personnel, but that funding runs out on Dec. 31
---
Kurt Erickson
St. Louis Post-Dispatch
JEFFERSON CITY, Mo. — The failure of Congress and President Donald Trump to agree on a new stimulus package could jeopardize a program in Missouri designed to help state workers who are on the front lines in the fight against the pandemic.
Among the billions in coronavirus relief funds Missouri has received from the federal government, more than $10 million has gone to provide some of the nation's lowest-paid state government employees an extra $250 month.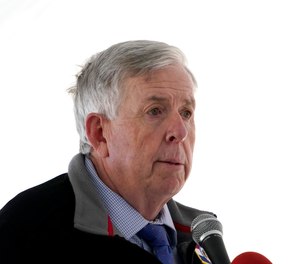 The added payment, known as "hazard pay," is aimed at ensuring state facilities have enough staff to continue serving mental health patients, the developmentally disabled, prison inmates and juvenile detainees.
Employees receive the added cash if they don't call in sick, allowing various state facilities to continue operating as normal.
Without the additional money, Missouri Republican Gov. Mike Parson's administration has worried that residents and patients would not get proper treatment if workers stay away.
On Tuesday, Parson said the pandemic has taken a toll on front-line workers, especially during the latest surge.
"I think the biggest concern that we have are the health care workers themselves. These people have been on the front lines. Most of us have had the chance to get a second wind of this, but these emergency rooms, these hospitals, these doctors, these nurses, EMTs, law enforcement officers, there's been no break," Parson said.
The additional funding, however, will run out on Dec. 31, even though the spread of the virus remains unchecked.
Congress left Washington until after the election without approving any relief measures even as the coronavirus pandemic surges and the economy sputters. Although Trump has predicted passage of a large package after the election, prospects for such a deal remain in doubt.
Missouri is among several states across the U.S. seeing a spike in confirmed cases and hospitalizations related to the coronavirus. The Missouri Department of Health and Senior Services on Tuesday announced 1,695 additional confirmed cases and 28 more deaths. The state has reported 172,717 cases and 2,838 deaths since the pandemic began.
Hospitalizations statewide remain high, with 1,407 people with confirmed or suspected COVID-19 illnesses as of Saturday, the most recent date available.
Parson said he wants to continue the added payments, if needed, once the new year begins.
"We'll evaluate that in December," Parson said. "It will all come down to what the federal government does.
"We want to be able to help those front-line employees," Parson said. "We've got to try and take care of those people best we can."
At the Missouri Veterans Commission, officials said Monday the hazard pay has helped the seven state-run nursing homes continue to operate during a spike in cases and deaths.
Similarly, the Department of Mental Health, where four employees have died of COVID-19, also has said the money is keeping nurses, aides and others who work closely with patients continuing to come to work.
___
(c)2020 the St. Louis Post-Dispatch
McClatchy-Tribune News Service