Mental health, EMS crisis named top 2 priorities for Pa. counties
County leaders will seek more resources for mental health services and EMS agencies in the coming year
---
By Laura French
HARRISBURG, Pa. — Improving funding for mental health services and seeking solutions to EMS budget and staffing shortages were named the two most important goals for Pennsylvania county commissioners in 2020.
The County Commissioners Association of Pennsylvania (CCAP) announced its legislative priorities for the year on Tuesday, with mental health and emergency medical services topping the list.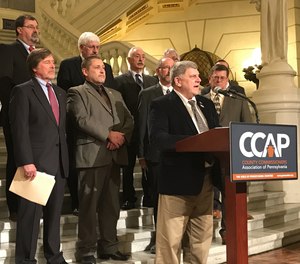 "Emergency medical services in Pennsylvania are in crisis, as many of our communities are wrestling with a decline – and sometimes even an outright lack of – these services," said CCAP Vice President and Butler County Commissioner Kevin Boozel, who also co-heads the association's EMS Task Force.
A recent report by the Task Force identified recruitment and retention, funding and reimbursement, and service models and training requirements to be top concerns amongst the state's EMS agencies. The association said it would partner with policy makers to develop potential funding and policy solutions.
"In particular, we will be working to allow county or multi-municipal authorities that would be capable of county-wide or regional EMS service deliver," EMS Task Force Co-chair and Tioga County Commissioner Mark Hamilton said. "The Task Force also will work to develop a toolbox that can assist each county in bringing together local stakeholders to review coverage needs."
The announcement comes a little over a month after volunteer EMS agencies in Erie County begged legislators to "help slow the bleeding" that threatened to put many agencies out of service.
Mental health funding was the number one priority on the commissioners' list. Pennsylvania Gov. Tom Wolf recently launched a campaign to reduce mental health stigma and improve access to treatment.
"For too many years, state funding for mental health services has lagged far behind needs," said Bradford County Ed Bustin, member of the CCAP Comprehensive Behavior Health Task. "Mental health base funds for expanded services, beds and diversions must be increased."