Mass. House approves bill aimed at opioid overdoses
The bill would limit initial opiate painkiller prescriptions to a seven-day supply and set an evaluation requirement for overdose victims seeking help at hospital ERs
---
By Steve LeBlanc
Associated Press
BOSTON — Massachusetts House lawmakers have approved a bill aimed at addressing the state's alarming spike in opioid overdoses and deaths, while rejecting a proposal that would have allowed doctors to involuntarily commit those suffering from overdoses to drug treatment facilities for up to three days.
The bill, which passed Wednesday on a unanimous vote, would limit initial opiate painkiller prescriptions to a seven-day supply and set an evaluation requirement within 24 hours for overdose victims seeking help at hospital emergency rooms.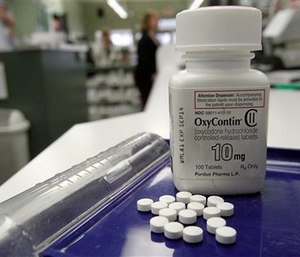 State Rep. Jeffrey Sanchez said there has been a change in the public perception that no longer sees individuals struggling with opioid addiction as "junkies" and "crackheads" but rather as individuals with an illness who need help.
"With this bill, we're trying to help people not get to the lowest of their low and never reach that trap door," said Sanchez, a Boston Democrat and House chairman of the Joint Committee on Health Care Financing.
The House bill has significant differences from a bill filed by Republican Gov. Charlie Baker.
Baker's bill would let doctors commit patients involuntarily to drug treatment facilities for up to 72 hours if they're considered an immediate danger to themselves or others, a provision not included in the House bill. The governor's bill would also limit initial opiate painkiller prescriptions to a three-day supply instead of the seven-day supply in the House bill.
During Wednesday's debate, the overwhelmingly Democratic House rejected a Republican-backed amendment that would have added Baker's 72-hour hold provision to the bill.
A handful of amendments were adopted, including a measure that would allow the Department of Public Health to regulate the advertising of opiates, narcotics and other drugs in doctor's offices. Another amendment recommends each city and town have at least one "prescription drug drop box" where medications can be safely disposed.
The Senate passed its version of the bill last year.
Massachusetts recorded at least 1,089 opioid-related overdose deaths in 2014, a 63 percent increase over 2012.
Senate President Stan Rosenberg told reporters Monday that the House and Senate bills will go to a six-member conference committee charged with hammering out a single compromise version to ship to Baker.
Rosenberg said he favored the House proposal allowing hospitals to hold individuals for up to 24 hours, or until an evaluation can be done, rather than Baker's 72-hour involuntary hold.
"We're all on the same path on virtually everything," the Amherst Democrat said of the House and Senate proposals.
Baker said earlier this week that he realized not everyone would agree with portions of his bill — including the 72-hour involuntary hold.
"But the good news here is there seems to be a fair amount of agreement on a number of elements, and I'm looking forward to being able to sign a comprehensive reform bill sometime soon," Baker said.
The House bill also includes legal protections for anyone administering the overdose-reversing drug naloxone — also known as Narcan — to a person during an opiate overdose.
It would also strengthen drug education programs in schools for students as young as the third grade and ends the policy of sending women with civil commitments for substance abuse — but who've committed no crimes — to the state prison for women in Framingham