'Final push' needed for EMS aid in Phase 4 of stimulus, NAEMT says
The association says it is prioritizing PPE and testing access and funding in its negotiations at the Capitol
---
By Laura French
CLINTON, Miss. — The National Association of Emergency Medical Technicians (NAEMT) has put out a call for a "final push" to have aid for EMS agencies and providers included in Phase 4 of the federal government's COVID-19 stimulus legislation. 
The association says the upcoming legislation currently being written at the Capitol could be the final iteration of the CARES Act and the last chance for EMS needs in the pandemic to be included.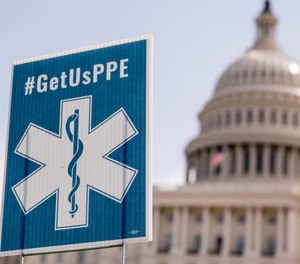 "While EMS agencies have received some relief through the passage of the CARES Act, the needs of our EMS agencies and personnel serving on the frontlines of this pandemic war were not adequately addressed through the CARES Act legislation," NAEMT President Matt Zavadsky said in a statement. "EMS has, and continues to incur, extensive additional expenses for personal protection equipment (PPE), overtime pay, and other medical equipment and supplies directly related to COVID-19."
Zavadsky said the organization is focusing on two main priorities for the next version of the CARES Act: PPE testing access, and funding. 
The NAEMT is calling for lawmakers to ensure EMS providers receive the protective equipment and COVID-19 testing needed to keep them and their families safe, and is also calling for financial aid through both direct funding and reimbursements for non-transport calls.
"EMS must respond to every 9-1-1 medical call prepared for a COVID-19 patient. However, EMS is still only reimbursed if the patient is transported to a hospital or another appropriate facility," Zavadsky stated. "At the same time, many EMS agencies across the country are experiencing a sharp decline in 9-1-1 medical response and transports as Americans are reluctant to call 9-1-1 for non-COVID-19 medical emergencies, and as hospitals have cancelled all elective surgeries and related medically necessary transports. Our costs are increasing exponentially to address COVID-19, while our total revenues are decreasing."
Zavadsky asked that supporters continue to contact their representatives in Congress to show that their constituents care about the issues facing EMS. More than 21,000 emails have already been sent to Congress members following previous calls to action by the NAEMT, according to Zavadsky. 
The association encouraged supporters to use the form on their website to find their local representatives and tell them to support direct funding and safety measures in the newest CARES Act.