EMS providers deployed for pandemic response sue FEMA subcontractor
EMS providers deployed to New York allege they were subject to overly strict rules and not paid what they were promised
---
Update July 2, 2020: Ambulnz has responded to the lawsuit filed by EMS providers who were hired by the company to assist in New York's pandemic response, disputing several claims made by the plaintiffs in the case. 
According to a statement from the company, Ambulnz never hired security guards at the hotel, never told employees they could not leave their rooms or tell them what they could or couldn't do while not on shift. The company pointed to social media posts from employees showing their travels around New York City between shifts. 
Ambulnz also stated that employees were never given GPS devices and were reimbursed for all travel expenses including every hour of travel time from their home offices to the city.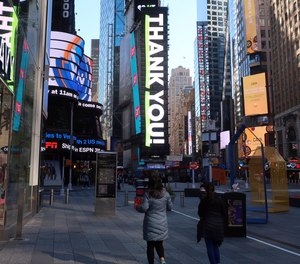 The updated statement also reiterates that Ambulnz verified its compensation practices with two separate, independent labor law firms that confirmed its payroll practices exceeded what was required by law. 
"Claims made in the lawsuit against Ambulnz are completely false and we are prepared to strongly refute these accusations," the statement read. "[...] We are completely confident in the rightness of our position, and believe this lawsuit is without merit."
Ambulnz also provided EMS1 with signed statements from employees, all dated June 29, 2020, refuting the plaintiffs' claims and speaking of positive experiences while deployed. 
"It's a shame that these employees who made out so well – both financially and with their experience – are lying and trying to drag Ambulanz through the mud for their own selfish gain," one California EMT wrote. 
Original story:
By Laura French
NEW YORK — A group of EMS providers who were deployed to New York to help tackle the COVID-19 pandemic are suing the FEMA subcontractor they worked under, alleging overly-strict work conditions and inadequate pay. 
The EMS providers were hired in March by private ambulance company Ambulnz, which they allege went back on its promise to pay the providers for "24-hours a day, 7-days a week," according to the New York Post. 
The lead plaintiff in the case that filed in a Brooklyn state court, Tennessee EMT James Richard, said he didn't learn until two weeks into his deployment that he would only be paid for seven 12-hour shifts per week instead of being paid for 24 hours a day. The lawsuit claims all other ambulance companies contracted by FEMA were paying for 24-hour shifts. 
The lawsuit also alleges that EMS providers were subject to strict rules throughout their deployment, including being required to stay in their hotel rooms at all times when not working shifts and being prohibited from consuming alcohol or engaging in sexual activity so that they could always be on call for emergencies. 
The plaintiffs claim a security guard was stationed in the hotel lobby and providers were made to carry GPS devices to ensure they did not leave their rooms. 
Ambulnz issued a statement saying that it had "verified compensation practices for our New York COVID-19 response contract with two separate, independent top-tier labor firms" and that the firms "confirmed that our payroll practices exceeded the amount required by law," according to the New York Post. 
At least one EMS provider hired by Ambulnz to work in New York, Colorado Firefighter-Paramedic Paul Cary, died due to COVID-19. Cary, 66, who had worked with the Aurora Fire Department for more than 30 years, died at a Bronx hospital on April 30, about a month after he was first deployed.