EMS leaders honored at Pinnacle EMS leadership forum
Doug Hooten, Brenda Staffan and Bob Garner were recognized for their efforts in advancing EMS as a profession
By EMS1 Staff
BOCA RATON, Fla. —Three EMS leaders were honored at the 12th annual Pinnacle EMS Leadership Forum for their efforts in advancing EMS as a profession.
MedStar Mobile Healthcare Executive Director Doug Hooten and Regional EMS Authority Integrated Services COO Brenda Staffan were presented with the Pinnacle EMS Leadership Award.
"With their teams at their respective organizations, Brenda and Doug have worked tirelessly to pioneer and encourage a deep paradigm shift among EMS leaders," Fitch & Associates co-founder Jay Fitch said. "More than that, they've conducted research, published, lectured and proven that MIH/Community Paramedicine not only delivers superior clinical outcomes and customer satisfaction — but can be fiscally sustainable."
"Along with Matt Zavadsky and other members of his team, Doug is nationally renown for implementing an innovative and groundbreaking MIH program that began serving the greater Ft. Worth area over eight years ago," Fitch said.
Staffan was honored for heading up REMSA's community health care initiative.
"Staffan, along with medical director Dr. Brad Lee and the entire REMSA team, clearly demonstrated the value of using EMS in new ways to provide better and more cost-effective patient care," Fitch said.
Veteran EMS leader Bob Garner was presented with the Pinnacle Lifetime Achievement Award for his contributions to the EMS industry as a member of the first class of paramedics in Florida in 1976 and president of the Randle-Eastern Ambulance Service.
"I've had the great fortune to cross professional and personal paths with Bob on a variety of occasions across the years. He is a true servant leader, embodying civility, kindness and commitment in all that he did," Fitch said. "Bob has led by example, and in doing so has lifted EMS at every turn."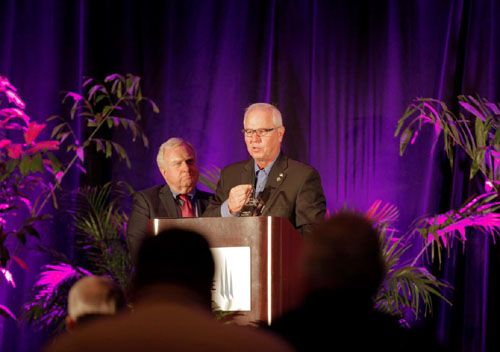 Doug Hooten is nationally renown for implementing an innovative and groundbreaking MIH program. (Photo/RedFlash Group)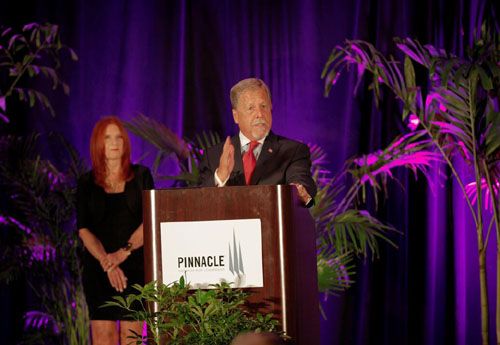 Bob Garner was presented with the Pinnacle Lifetime Achievement Award for his contributions to the EMS industry. (Photo/RedFlash Group)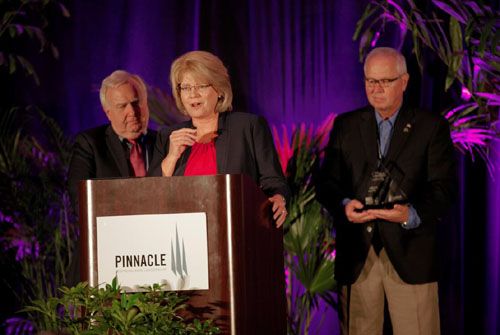 Brenda Staffan was honored for heading up REMSA's community health care initiative. (Photo/RedFlash Group)