Disrespect for NYC EMS is disrespect for EMS everywhere
New York City and other communities need to show their respect for paramedics, EMTs through pay equity
---
Off-duty FDNY EMTs and paramedics are not participating in the July 7, 2021, New York City Hometown Heroes ticker tape parade. The event, meant to honor and celebrate essential workers and a relative return to normalcy in our nation's most populous city, is also an opportunity to recognize the ongoing pay inequity for EMTs and paramedics.  
Parade celebrates essential work, but is a "slap in the face" to workers 
"The Summer of New York City is underway, and the beating heart of our recovery is the gratitude and respect we all share for the essential workers who brought this city out of a crisis," said Mayor Bill de Blasio. "This celebration will honor all those who fought through adversity and unprecedented challenges to keep New Yorkers safe."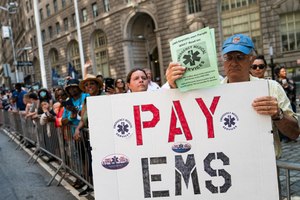 Grand Marshal Sandra Lindsay, the nurse who was the first person in the U.S. to receive a COVID-19 vaccine, will lead fourteen floats, representing 260 different groups of essential workers, including nurses, first responders, transit workers and teachers, down the Canyon of Heroes.  
Paramedic Liana Espinal called the parade a "slap in the face" and joined other EMS providers in asking for financial compensation as a better way to recognize the work, stress and sacrifice EMTs and paramedics made throughout the COVID-19 pandemic.  
NYC disrespects the people of EMS 
Statements, tributes and parades that honor EMS, as well as other essential workers, are always welcome, but continue to ring hollow when EMTs and paramedics struggle to live on paltry wages and manage the cumulative effects of job-related stress.  
The unions representing FDNY EMS field personnel, as well as lieutenants and captains, have been in negotiations with the city since before the pandemic to increase wages for their members. The starting pay for a FDNY EMS EMT is just $16.95 per hour, a wage difficult to live on anywhere but nearly impossible as a living wage in NYC.  
"They're not giving us anything at the table," said Oren Barzilay, president of Local 2507, to CBS2. 
Obtaining pay equity with police and fire is a top negotiation priority. The EMT starting salary in the city is about $35,000. It's $45,000 for firefighters and $42,500 for NYPD officers. After 5 years, a firefighter can be making $100,000 per year, while the wage for an EMT tops out at $50,000 per year after five years.  
The disrespect for the people of EMS is especially stark when considering that the EMS service employs significantly more women and racial minorities than the fire department. The FDNY's uniform staff is 99% male. In contrast, the civilian EMS workforce is more than one-quarter (28%) female. The majority of the EMS workforce are minorities – 41% White, 21% African American, 28% Hispanic/Latino, 5% Asian, 4% other/unknown, and less than 1% Native American. The uniform staff of FDNY are 77% White, according to a March, 2020 FDNY report. 
Listen to the Inside EMS podcast with Oren Barzilay: Does New York City value EMS? 
Pay equity is respect for the people of EMS 
Every essential worker should be able to earn a wage that reflects their education, expertise, workplace risk and the contribution they make to the health and liberty of their community and our country. Increasing pay for EMS shouldn't come at the expense of decreasing pay for firefighters or sanitation workers. Instead, New York City and other communities need to show their respect for EMS through pay equity.  
Elected officials often and naturally look to other communities for cues about budgeting, spending and contract negotiations. If we want salary equity for EMS in every community, we can't look away or stand on the sidelines from the ongoing contract dispute between New York City and the EMS unions. We all need to advocate for the EMS professionals in NYC because advocacy for them is advocacy for us.