First responders hire marketing firm to help with recruitment
In an effort to combat the nationwide volunteer shortage, 20 fire and EMS departments in three states are getting creative with tactics such as recruitment centers
---
By EMS1 Staff
JENKINTOWN, Pa. — A marketing firm is helping 20 fire and EMS departments in three different states combat the nationwide volunteer shortage by getting creative with ideas such as recruitment centers.
Philly.com reported that departments in Pennsylvania, New Jersey and Virginia have enlisted the help of Communication Solutions Group for help in recruiting firefighters and EMS providers.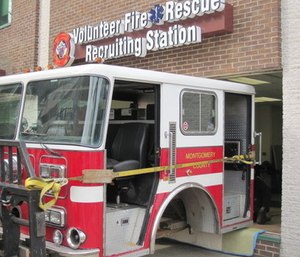 "Whenever I speak to these fire departments, I say, 'Have any of you worked in sales?'" Communication Solutions Group president Leza Raffel said.  "Usually they say no. And I say, 'This is a sales job.'"
Thanks to the marketing firm's ideas, the departments are now opening recruitment centers, as well as recruiting in places of worship, schools, clubs and chambers of commerce.
The departments have even advertised in movie theaters and local television stations, and even recruit while going door-to-door checking and installing smoke alarms.
The Chester County Fire Chiefs Association took advantage of the upcoming Mother's Day holiday to highlight six mothers that volunteer for them in an effort to encourage other moms to do the same.
The Radnor Fire Company also highlighted their firefighters by profiling them monthly in a local magazine, and they said they are considering offering housing to their volunteers.
"There were a lot of cookie-cutter answers out there," Montgomery County Volunteer Fire-Rescue Association executive director Eric Bernard said about conventional recruiting methods. "It is a constant effort and presence."
Bernard heads a federally funded recruitment center for the department, but he said most of his recruitment efforts happen outside the office.