Va. city first responders honored for drowning response
The Hampton and Seabrook fire departments were jointly awarded EMS Service of the Year by PRH's Seabrook emergency room
---
Max Sullivan
Portsmouth Herald, N.H.
HAMPTON, Va. — Hampton area firefighters were recognized by Portsmouth Regional Hospital last week for their EMS services, including responding to a fatal drowning last summer.
The Hampton and Seabrook fire departments were jointly awarded EMS Service of the Year by PRH's Seabrook emergency room for responding to a drowning at Seabrook Beach last August, in which two people died and two others were saved. The awards were given out at a ceremony May 23.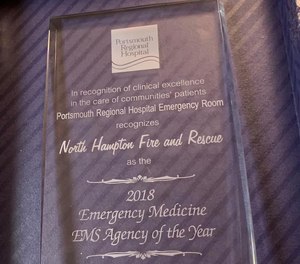 North Hampton fire was awarded EMS Agency of the Year by emergency room staff on PRH's main campus, the awards given separately by two emergency rooms. Seabrook fire was also named Agency of the Year in the trauma category, its firefighters honored for their response to a fatal car crash on Pine Street last August.
Fire chiefs in Seabrook and Hampton said they appreciated recognition for their efforts in the drowning despite how difficult it was to see two people lose their lives. The couple that died, Laura and Michael Cote, had come from Methuen, Massachusetts, to visit the beach Aug. 19, when they were caught in a riptide.
Michael Cote, 49, was pronounced dead that day after being brought to Anna Jaques Hospital in Newburyport, Massachusetts, while his wife, 47, died the next day after being brought to Portsmouth Regional Hospital.
Hampton firefighters provided a boat used in the rescue and jumped into the water to help locate victims, according to Fire Chief Jameson Ayotte. Seabrook firefighters worked to resuscitate victims and assisted in bringing one to shore, said Fire Chief Bill Edwards. They were assisted by Hampton Beach lifeguards, who were also recognized by the town of Seabrook for riding a jet ski to the scene and helping pull people from the water.
"Like that day at the beach, it's always a lot of bad that results from these calls. A lot of doom and gloom," said Edwards. "It's always good to be recognized for all the hard work."
North Hampton fire received PRH's Agency of the Year award based on patient care report data that showed North Hampton's paramedics and advanced EMTs had the highest success rate with procedures performed on patients in the field. Deputy Fire Chief Jason Lajoie attributed much of the success to the department's increased EMS training three years ago. North Hampton fire hired an outside EMS education instructor to boost the number of training hours for firefighters and Lajoie said recent advancements have made his department the best it's ever been.
"I'm especially proud of the professionalism of our firefighters," said Lajoie. "The differences they've made in people's lives are astounding."
Seabrook firefighters were recognized for responding to the scene of a fatal car crash on Pine Street last Aug. 29, when Stephen and Erin VanDalinda were allegedly struck by their neighbor, Catrina Costello, who faces charges including second-degree murder. Stephen VanDalinda died from the crash, while his wife suffered debilitating injuries from which she is still recovering.
Seabrook fire's Seth Coleman, Frank Chase, Chris Tilley, Mark Potvin, Nate Mawson, Jabe Felch and March Bibaud were honored with EMS Provider of the Year in the trauma category for their work at the crash scene.
Hampton firefighter and paramedic Adam Mills was also recognized by the Seabrook ER staff as EMS Provider of the Year. Mills received his award for his knowledge, skill set and excellent bedside manner with patients. He joined the department in 2017, having previously worked in North Hampton.
"I don't know why it was me since I work with a bunch of other great providers," said Mills, "but overall I am honored."
———
©2019 Portsmouth Herald, N.H.
McClatchy-Tribune News Service