Texas fire district board president makes pitch for 'yes' vote on creation of new ESD
Indian Creek's fire department board contends that it cannot continue to provide effective service with just 20 percent of district residents pledging financial support
---
Mike Eads Editor
Gainesville Daily Register, Texas
COOKE COUNTY, Texas — The people served by Indian Creek Volunteer Fire Department in eastern Cooke County have to decide soon whether or not they are willing to pay more for their fire and rescue service.
District residents can vote on whether or not to create an Emergency Services District (ESD) to collect up to 10 cents per $100 of assessed property value each year (about $100 for a $100,000 property) from property owners served by ICVFD to fund its equipment purchases, training and the like.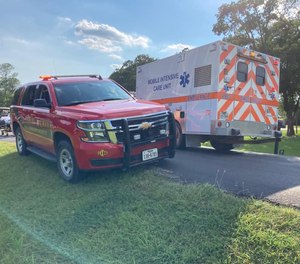 Dennis W. Engels, President of Indian Creek's fire district board, recently posted an appeal to voters at Indiancreekvfd.com to vote for the ESD.
Engels and the fire department's board contend that it cannot continue to provide effective service with just 20 percent of district residents pledging financial support and an annual stipend of $11-13,000 from Cooke County officials.
For instance, Engels recounted an attempt to acquire replacement equipment — the department had to bow out of bidding for a 10-year-old fire engine when the price went beyond $250,000. And, in addition, the lease expires in two years on the land the fire district currently leases for $1 per year to house its fire station.
Growing demand
Engels stated that ICVFD volunteer firefighters, EMTs and paramedics have handled more than 1,500 emergency fire and rescue calls since 2017 — 502 calls in 2020 alone — spread over 60 square miles of Cooke County.
The number of calls for service is likely to increase over the next several years, especially if Lake Kiowa and surrounding areas see anything close to the housing and population growth now underway in other parts of Cooke County.
"All our volunteer firefighters, EMTs and paramedics have full-time jobs and family responsibilities. Yet they manage to respond to over 50 calls and hours of readiness training a month," Engels stated.
"ICVFD's responsibility to respond to emergency fire and rescue calls is extremely demanding. If something doesn't change soon, it's inevitable that equipment reliability will continue to decline, not enough people will be around to respond to emergencies and 911 calls will be missed by your ICVFD."
Vote won't affect ambulance service
The Cooke County Commissioners Court voted 3-2 in August to allow the ESD vote to go forward. County ambulance service would not be affected or funded in any way by a new ESD; rather, all the money would go to Indian Creek fire and rescue operations.
"There's a misperception that not voting for the ESD would interrupt county ambulance services, and that is not the case," Starnes said when contacted by the Register.
The new ESD, should voters approve it, would be governed by board members appointed by Starnes and the other county commissioners.
'Act now'
Engels warned that the long-term prospects for ICVFD are gloomy without the establishment of an ESD.
"ESD #1 is the best available means to ensure and improve ICVFD's outstanding fire and rescue record. Services an ESD provides — fire and EMS — are at the core of public safety. Lives are at stake," Engels stated. "ICVFD will not disintegrate overnight, but our board is obligated to alert residents of the need to act now to avoid the risk of serious decline by providing needed resources."
___
(c)2021 the Gainesville Daily Register (Gainesville, Texas)
McClatchy-Tribune News Service