Pa. firefighter-paramedics get overdose call during training on fentanyl
Wilkes-Barre FD members returned to class with questions; "It provided timelessness," said Thomas Franko, Wilkes University assistant professor
---
By Bob Kalinowski
The Citizens' Voice
WILKES-BARRE, Pa. — Minutes into a training class on fentanyl Thursday morning conducted by the Wilkes University pharmacy department, a crew of Wilkes-Barre firefighters and paramedics were dispatched to the report of an unresponsive 19-year-old.
Most in the room assumed the call was for a drug overdose, given the age. They were right. There were two victims that needed treatment, in fact.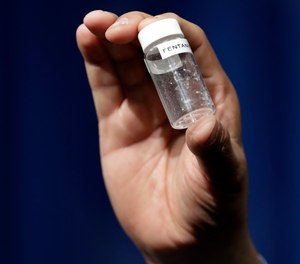 When the crew returned, they had many questions about fentanyl for the training instructor, Thomas Franko, assistant professor of pharmacy at Wilkes.
"It involved this," the firefighters told Franko about the call.
The training seminar — and the real-life drug overdose that played out — are part of a new partnership between Wilkes and the city fire department on the issue of fentanyl, the lethal synthetic opioid. Pharmacy students will continue to train the department.
"The chief told us before we started with all this that this is an active fire station and something like that could very well happen and to anticipate it. It adds a sense of realness to it. This isn't a classroom theory thing only. This is something that could happen literally during it," Franko said from the the city's South Station on High Street. "It was a great educational opportunity for the firefighters because when they came back they said, 'This is what happened. What was going on with this? Why did this happen? It provided timelessness to this."
Much of Franko's training session focused on the rise of fentanyl, its dangers and the use of naloxone, the opioid-reversal drug. He also spoke about many common misconceptions, such that fentanyl could be harmful to first responders just by touching it or being exposed to it nearby.
"It can't instantly cross into the skin, enter the blood and get into the brain. That's not how it works," Franko said. "If there was a big mountain of fentanyl right there, it would be OK."
Wilkes-Barre Fire Chief Jay Delaney said the training was informative to his firefighters, especially the part about the exposure to the drug.
"That was a big part of the education we had," Delaney said.
While fire crews wear personal protective equipment, "it was reassuring to learn today that there is not a great amount of concern should you get this substance on you."
___
(c)2023 The Citizens' Voice (Wilkes-Barre, Pa.)
Visit The Citizens' Voice (Wilkes-Barre, Pa.) at citizensvoice.com
Distributed by Tribune Content Agency, LLC.
McClatchy-Tribune News Service