Twin brothers graduate FDNY academy as EMTs
The Sanchez brothers, 26, will be working at different stations in separate areas of Manhattan
---
Esha Ray and Leonard Greene
New York Daily News
Twins Luis and Anthony Sanchez do everything together.
They went to the same college, St. John's University, majored in the same subject, psychology, and have both been lifeguards since they were 16.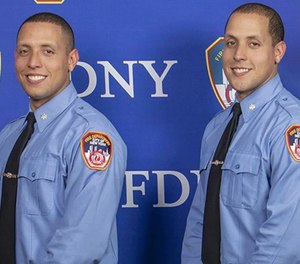 Even their career path is the same. They are both FDNY EMTs.
The Sanchez brothers, 26, were among 154 probationary Emergency Medical Technicians who graduated Wednesday during a ceremony at the Christian Cultural Center in Brooklyn.
For 13 weeks, the recruits were trained in everything from spinal immobilization to emergency childbirth. They learned how to manuever an emergency vehicle through the harried streets of New York.
The Sanchez brothers, who live together in Bay Ridge, Brooklyn think they had an advantage.
"We studied together. We pushed each other to do everything together and motivate each other," Luis said. "We practice on each other at home. We're better prepared because of that."
"We tend to motivate each other and feed off each other's energy," said Anthony. "We love doing everything together."
They won't be working together. Luis will be in EMS Station 10 in Yorkville, Manhattan. Anthony will be in EMS Station 13 in Washington Heights in Upper Manhattan.
The separation will help the identical twins avoid the joke circulating on Instagram about what would happen if they were partners.
"Really trip out a patient on a call if they are partners," one fan posted on the FDNY site. "How many of me do you see?"
New EMT Kevin Rehrer, 32, said he was inspired to join the department after he was saved from a nearly drowning when he was 5-years-old.
"My dad pulled me out of the water and when I woke up, I was in the back of the ambulance with the EMTs," Rehrer explained. I think about that, the impact that this man had on my life and my family's life. My dad saved me, but he (the EMT) made sure that I stayed alive. I want to be able to do that everyday for someone."
The FDNY said that 2019 was the busiest for medical calls in the department's history, with 1.5 million jobs.
"So all of our graduates are sorely needed and rest assured, you will be active," said First Deputy Commissioner Laura Kavanagh.
The rookies will be making around $33,000 and will get to $48,000 after five years. By comparison, an entry-level firefighter gets about $45,000, which more than doubles over five years.
EMS chief Lillian Bonsignore said she joined the department 29 years ago for what she thought would just be a summer job.
"This has turned into a career greater than anything I could've ever imagined all those years ago," Bonsignore said. "I hope you love the work as much as I do, because the abilities you now have are truly amazing. Each of you has been trained by the best to be the best. You've been trained to save a life."
———
©2020 New York Daily News
McClatchy-Tribune News Service