Surveillance footage released, charges dropped in FDNY EMT sexual assault case
Bronx District Attorney Darcel Clark said the video appears to show the man in "the throes of a seizure"
---
By Laura French
NEW YORK — The Bronx district attorney has released surveillance footage and dropped all charges in the case of a man accused of sexually assaulting an FDNY EMT during a three-alarm fire last week. 
Bronx District Attorney Darcel D. Clark released a statement Wednesday saying that surveillance video from the incident appears to show the man having a legitimate medical emergency.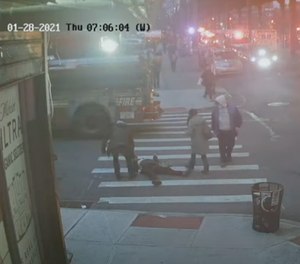 Aaron Cervantes-Mejia, 52, was accused of inappropriately grabbing and assaulting a 32-year-old EMT who was flagged down to help him on Jan. 28. NYPD officers arrested Cervantes-Mejia and he was initially charged with forcible touching and sex abuse, but was released the same day without charges as the district attorney's office pursued further investigation. 
The district attorney's statement announcing the dismissal of charges against Cervantes-Mejia said that the surveillance video, interviews and medical records established that he was having a seizure during the incident. 
"Mr. Cervantes-Mejia is seen lying on the ground in the crosswalk and grabs the EMT's clothing in what appears to be the throes of a seizure," Clark wrote in the statement. "The EMT moved his hand away without any assistance while covered in protective gear from head to toe. Mr. Cervantes-Mejia did not appear to have control of his hands." 
People interviewed by investigators stated they had witnessed Cervantes-Mejia having seizures in the past, "during which he grabbed at anything within reach," according to Clark's statement. A review of Cervantes-Mejia's medical history also showed he had a history of seizures and had been transported by EMS at least once before due to a seizure, Clark said.
"I will not tolerate assaults on first responders, who courageously serve our city, especially during this pandemic; and I will not prosecute anyone unless there is evidence to support charges," Clark stated. "After an intensive investigation, we have dismissed and will not charge forcible touching, sex abuse or felony assault on a police officer, firefighter or EMS professional, against Aaron Cervantes-Mejia. He was the subject of a false narrative that spread quickly through the media and social media." 
FDNY EMS Local 2507 President Oren Barzilay released a statement Wednesday responding to the district attorney's announcement, saying, "A false narrative was never provided. The fact still remains that a fellow EMT felt threatened and was sexually assaulted." 
Barzilay added, "Women have agency and known when and if they are being sexually groped. The video clearly shows the female EMT jumping back when groped in her crotch area." 
The statement also says Clark never should have released the unredacted video of the EMT, calling Clark's response to the incident "out of line and irresponsible." 
"Not only is this EMT a victim of sexual abuse, she is now a victim of the District Attorney's office," Barzilay stated.
Read Bronx District Attorney Darcel Clark's full statement below:
Read FDNY EMS Local 2507 President Oren Barzilay's full statement below: