Photos: Ohio manufacturing plant explodes, killing 1, injuring several
Fire and EMS crews from multiple departments responded to the metal and paint plant
---
By Molly Walsh
cleveland.com
OAKWOOD, Ohio — One person was killed and at least dozen people were injured Monday afternoon in an explosion and fire at an Oakwood manufacturing company, Oakwood Fire Department officials said.
Fire departments across Cuyahoga and Summit counties responded to I. Schumann & Co. to extinguish the fire at the metal and paint plant at 22500 Alexander Road.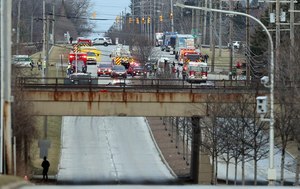 Steven Mullins, 46, of North Ridgeville, was killed in the explosion, according to the Cuyahoga County Medical Examiner's Office. WKYC Channel 3 reports Mullins was a maintenance worker at the plant.
In a statement released to WEWS Channel 5, company officials say they will cooperate with investigators to determine the cause of the explosion.
"Our efforts now are focused on supporting the first responders who came on scene quickly to help our employees," the statement says. "The safety and health of our employees is our top priority and we commit to ensuring they receive the medical care they need. ... Our thoughts and prayers are with our team members and their families at this difficult time."
Joey Sarconi was on his lunch break across the street from the plant when he said he heard an explosion.
"It was like a bomb," he said. "I ducked and covered inside my car. When I looked up, there was just a dark cloud of smoke and then an explosion."
Sarconi, a Maple Heights resident, has worked at the business across the street from the plant for 20 years and said he is grateful to be alive.
Gravel and steel beams flew in the sky around the plant, he said.
"There are just rocks and steel everywhere," he said. "This is not good."
Robert Klamar was working at another business approximately half a mile away when the explosion occurred.
"It shook our whole building," he said. "The tiles came down from the ceiling."
Sarconi said after the explosion ambulances and fire trucks flooded the area. A Life Flight emergency helicopter also responded to the scene.
"I have eaten lunch here everyday," he said. "I have a guardian angel over me."
©2023 Advance Local Media LLC.
Visit cleveland.com.
Distributed by Tribune Content Agency, LLC.
McClatchy-Tribune News Service