Chicago paramedic found dead in burning home
Robert Spoon was believed to have also suffered a gunshot wound
---
By Deanesse Williams-Harris and Liam Ford
Chicago Tribune
CHICAGO — A Chicago paramedic and part-time suburban firefighter was found dead Thursday after a fire in his Mount Greenwood neighborhood home, authorities said.
Police were alerted to a fire at a home in the 11400 block of South St. Louis Avenue, where firefighters had found an unresponsive victim, officials said.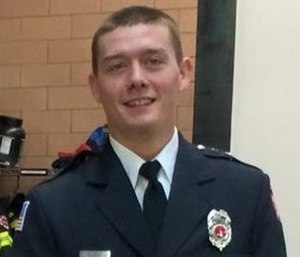 The man was taken to Advocate Christ Medical Center in Oak Lawn, where he was pronounced dead at 2:38 p.m., according to the Cook County medical examiner's office. Detectives were conducting a death investigation. The man was believed to have suffered a gunshout wound, but foul play was not immediately suspected.
He was identified as Chicago paramedic Robert Spoon, 28, a 2½-year veteran of the Chicago Fire Department and a 10-year veteran of the Hometown Fire Department, according to the Fire Department and the medical examiner's office. Spoon was a lieutenant with Hometown, according to the agency's Twitter feed.
Fire officials reported the fire was struck out quickly. 
The cause of the fire was not immediately known; the Chicago Bomb and Arson Unit was investigating.
Copyright 2017 Chicago Tribune