Texas man struck, pinned under vehicle
Crews used airbags to lift the white Honda sedan and get the man out
---
By Rebeca Piccardo
The Sun Sentinel
FORT LAUDERDALE, Texas — A man was pinned underneath a car Friday night after being hit at a crosswalk in Fort Lauderdale.
The incident happened around 7 p.m. in the 1000 block of Northwest Sixth Street.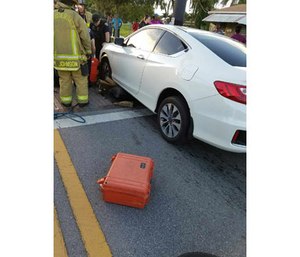 Crews used airbags to lift the white Honda sedan and get the man out, said Fort Lauderdale Fire Rescue Battalion Chief Greg May.
The man was taken to Broward Health Medical Center with injuries that were not life-threatening, May said.
Coyright 2016 the Sun Sentinel