'Ambulance' star Eiza Gonzalez says film depicts first responders as 'real-life superheroes'
The actress said she prepared for her role by learning from EMS providers and other medical professionals
---
Peter Sblendorio
New York Daily News
NEW YORK — In Eiza Gonzalez's new big-screen thriller, superheroes don't wear capes.
The actress hopes her performance as a quick-thinking emergency medical technician in the action-packed "Ambulance" highlights the lifesaving work first responders do every day.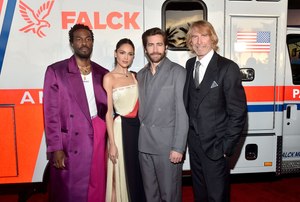 "These are the real superheroes," Gonzalez told the Daily News. "We're living in a world where we're obsessed with watching superhero movies, and here we are making a movie about real-life superheroes."
Directed by Michael Bay, "Ambulance" introduces Gonzalez's Cam as the best EMT in Los Angeles with a reputation for being able to keep anybody alive for 20 minutes.
The movie, in theaters Friday, presents Cam with the biggest challenge of her career when the ambulance she's treating a wounded cop in is hijacked by two bank robbers, kicking off a high-speed police chase as she works to save her patient in the back of the vehicle.
Gonzalez is no stranger to action films, previously starring in "Godzilla vs. Kong" and the car-centric thriller "Baby Driver," but says nothing compared with filming sequences in the tight quarters of a zooming ambulance.
"It was so vivid," Gonzalez, 32, said. "It was so real. My body was going through the entire experience, so it was quite terrifying, and I would struggle sometimes to be able to focus and even remember my lines because your body goes into fight or flight mode, and it's really shocking to your system. But I really watch the movie now, and it gives it a realism that you could not replicate."
Preparation for the role included learning from real medical professionals, said Gonzalez, who felt "way more informed and educated about the incredibly hard work" first responders do after making the movie.
"I was lucky enough that I attached myself to this project pretty early, so I had a window of like four months to ... be working intimately with paramedics, and actually surgeons, doctors, who walked me through a lot of things," Gonzalez said. "It was really cool. It was a great experience. It's like going to medical school on a daily basis for four months."
The film's portrayal of first responders felt particularly powerful to Gonzalez due to the COVID-19 pandemic that's demanded so much from frontline health care workers.
She told Bay — whose other films include "Transformers" and "Pearl Harbor" — that she wanted to make sure her character was depicted authentically.
"I had a lot of pressure on that because obviously coming off of the pandemic and playing a paramedic was incredibly terrifying," Gonzalez said. "I was just so scared of letting them down and disappointing them, so when I sat down with him, I said it's really important for us to make sure that our role is strong, and that she conveys emotion but she is as transparent as possible as a paramedic."
Gonzalez stars in "Ambulance" with Jake Gyllenhaal and Yahya Abdul-Mateen II, who portray the bank robbers. She credits the film for centering on three complex characters with compelling backstories and motivations.
"It's a very inspiring story," Gonzalez said. "I feel like people will walk out from this movie feeling seen and understood. It's a movie that talks deeply about how complicated the American Dream is, how systemically sometimes it can be built for us to fail, how we can all sort of relate to that, and the incredible struggle to survive in a world where, for the middle class, it's not ultimately set up for us.
"I find that this is a movie that audiences will really connect with, and then it's just an emotional roller coaster. Amazing explosions, a fun time, and just an ultimate Michael Bay experience."
---
Read next
Jake Gyllenhaal has 'even more respect for first responders' after filming 'Ambulance'
Trailer: The action-thriller features bank robbers who hijack an ambulance
___
©2022 New York Daily News
McClatchy-Tribune News Service