EMS World Expo 2023: Welcome to New Orleans
While planning your trip to The Big Easy, check out these options for dining and entertainment, as well as EMS1 columnists to watch for at the Expo
---
It's time to "let the good times roll" as they say in New Orleans, the host city of this year's EMS World Expo from Sept. 18-22 at the Ernest N. Morial Convention Center.
Ahead of this year's conference, check out which EMS1 columnists will be attending and presenting at the show, and discover top attractions and amenities to explore while you're in town – everything from history to entertainment to dining.
There's something for everyone in The Big Easy!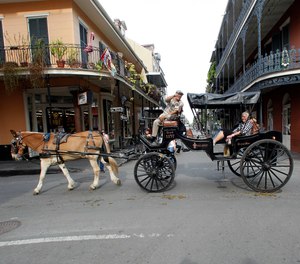 LOOKING AHEAD TO EMS WORLD EXPO
This year, several EMS1 columnists and contributors are speaking at the conference. Check out their work for related educational information and follow our coverage of the show here:
---

Read more:
Can't make it to EMS World Expo?
Don't worry, you can still experience elements of the show from afar
---
WHY NEW ORLEANS?
Known for its nightlife with live-music venues and an unmatched food scene, New Orleans is considered one of the most unique cities in the country due to a blending of French, African and American cultures.
History & culture
There is history around every corner in New Orleans. Check out some of these iconic sites if you have a moment in between educational sessions.
Entertainment
Looking for something to do after a long day of networking at EMS World Expo? We've got you covered.
Dining
New Orleans is flush with amazing eateries; check out our list for some all-day recommendations. 
See you at EMS World Expo!