2019 winners of National EMS Awards of Excellence announced
Recipients will receive their award during the opening ceremony at NAEMT's General Membership Meeting
---
By EMS1 Staff 
CLINTON, Miss. — NAEMT and EMS World officials announced the 2019 National EMS Awards of Excellence recipients.
According to a press release, the recipients will receive their awards on Oct. 15 in New Orleans, Louisiana, during the opening ceremony at NAEMT's General Membership Meeting and Oct. 16 during EMS World's opening ceremony.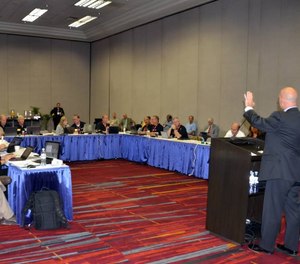 The recipients are:
Debby Carscallen, Paramedic, Moscow, Idaho

2019 NAEMT/Nasco Paramedic of the Year,

Freya Whalen, Emergency Medical Technician (EMT), Clever, Missouri

2019 NAEMT/Braun Industries EMT of the Year,

Michael Dailey, MD, FACEP, FAEMS, Delmar, New York

2019 NAEMT/Bound Tree EMS Medical Director of the Year,

Melissa Stuive, Portland, Texas

2019 NAEMT/Jones & Bartlett Learning EMS Educator of the Year

HM1 Kenneth Russell, US Navy, Camp Lejeune, North Carolina

2019 NAEMT/North American Rescue Military Medic of the Year

San Antonio Fire Department EMS, San Antonio, Texas

2019 Dick Ferneau Career EMS Service of the Year

Princess Anne Courthouse Volunteer Rescue Squad, Virginia Beach, Virginia

2019 Volunteer EMS Service of the Year
Closing paragraph: The annual NAEMT General Membership Meeting will be held in conjunction with EMS World Expo on Oct. 14-16 in New Orleans. Visit the NAEMT website to register to attend.