Mercedes-Benz Superdome lit blue and gold in honor of EMS Week
EMS Week celebrations across New Orleans honor the commitment and dedication of EMTs and paramedics
---
By New Orleans EMS Foundation
NEW ORLEANS — On Wednesday, May 24, the Mercedes-Benz Superdome was lit blue and gold in support of EMS Week.  
This mid-week display was the most visible in a long list of the public recognitions of EMS personnel across New Orleans.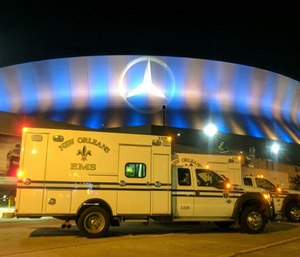 The week started with the New Orleans City Council proclaiming Monday as the first ever NOLA Star of Life Day. The House of Blues hosted a free concert that evening for NOEMS employees and their loved ones. 
On Tuesday and Wednesday, a BBQ cookout and ice cream social were sponsored by Tulane Hospital and Touro Infirmary respectively.  Touro Infirmary's EMS Liaison, Amy Waldrup spoke of the importance of recognizing EMS: "the members of our EMS community work tirelessly day in and day out caring for patients in their greatest time of need.  Touro Infirmary is honored to work with these professionals and grateful that we could give back to them this week."
The week will end as impressively as it began, with a crawfish boil sponsored by IberiaBank and New Orleans EMS Foundation as well as a free comedy show at The Howlin Wolf. 
Cherie Guggenheim, an Executive Assistant with NOEMS, coordinated with most of the 40 plus organizations in the area who contributed to EMS Week. Each of the 148 NOEMS employees will receive a swag bag with over $130 worth of gifts including custom-made NCIS New Orleans hats, passes for popular tourist attractions like the Steamboat Natchez, and gift cards to local restaurants including Raising Canes.
New Orleans EMS: New Orleans EMS is one of the highest volume EMS services in the nation, responding to over 64,000 calls for service in 2016. As an industry leader, New Orleans EMS serves as a model across the nation and internationally for progressive and cutting edge medical treatment of the ill and injured. New Orleans EMS serves the needs of citizens and visitors of Orleans Parish and employs 148 full and part-time medical professionals, both EMTs and Paramedics.