How to recognize, respond to domestic violence incidents
You were asked to respond for a woman who may have broken her arm; did you make the right decision?
---
Updated Sept. 27, 2018
The month of October is recognized as Domestic Violence Awareness Month (DVAM), which was first held in 1987 and designated by the U.S. Congress in 1989. The areas of focus for Domestic Violence Awareness Month are:
Mourning those who have died because of domestic violence.
Celebrating those who have survived.
Connecting those who work to end violence.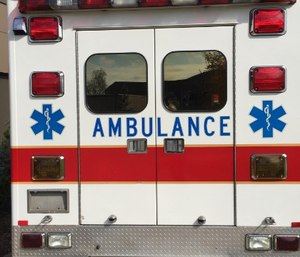 In the U.S., one in three women and one in four men have been a victim of some level of violence by an intimate partner during their lifetime. Perhaps more shocking is that one in four women and one in seven men have been a victim of severe physical violence.
Domestic violence is clearly a significant problem and the statistics above only include actual acts of physical violence. The impact of emotional and verbal abuse is likely far more widespread with domestic violence being linked to increased rates of depression and suicidal activities.
As the initial point of contact for many victims of domestic violence, emergency responders are in a position to recognize patients who are at risk and may be able to provide support and resources to the victim. While that is the case, responder safety should be accounted for as well. Domestic violence situations may become volatile quickly.
Recognizing domestic violence
One of the hallmarks for EMS to be aware of in identifying a domestic violence situation is a pattern of injury which does not match the story the patient or bystanders are telling. A fractured wrist could easily have resulted from a fall down the stairs but the presence of multiple bruises of varying ages should raise your concern for domestic violence. Your patient could simply be taking a blood thinner or there could be another clinical explanation, but you should still have a high index of suspicion for abuse as an underlying cause.
Observing the interaction of the patient with their partner is also a clue to the presence of an abusive relationship. A patient looking to their partner before answering your questions, or a partner answering questions on the patient's behalf and guiding your understanding of the events leading to the injury should raise your suspicions of abuse. This controlling behavior is common in domestic violence relationships.
In the end, the message for responders to potential domestic violence situations is similar to any other call: Trust your instincts. You know if a patient looks sick or not. If a situation between a patient and an intimate partner seems off or suspicious operate under the assumption that something is wrong.
Reporting domestic violence
Timing for reporting domestic violence will depend largely on the scene and how the particular call proceeds. Given the controlling nature of domestic violence relationships, the abuser may want to be in the ambulance during transport limiting your opportunities to speak with the patient openly. In these cases, advising receiving hospital staff about what you witnessed is extremely important. If you have the opportunity to speak with the patient privately, tell them that there are resources available that you can connect them with. Avoid judging the patient. You are not the one in the situation and don't know the whole story.
EMS providers are mandatory reporters of child abuse and may have similar obligations to report elder abuse and domestic violence. In many cases, a child witnessing domestic violence is considered a form of abuse, and you have a legal obligation to report your suspicion to the appropriate agency. As always, confirm the obligation and procedure for your specific jurisdiction with your employer or medical director.
Potential for violence
Suspected domestic violence scenes have the possibility to escalate quickly. When EMS providers are focused on assessing and treating their patient, they may lose focus on unsafe aspects of the scene. Extricating the patient to the ambulance (even under the guise of not having the right equipment in the house like a splint or rolled gauze) may be enough to separate the two individuals. If children are on scene, ensure that law enforcement is responding as well.
Requesting law enforcement to the scene of a domestic violence call, particularly when the abuser is still present, requires care. Openly asking for the police to respond may anger the abuser or cause the victim to refuse care for fear of repercussions. Be familiar with your agency's procedures for requesting law enforcement and know how to use your communications equipment. Some portable radios are equipped with silent panic buttons. You may also be able to text a dispatcher your request. If you have been able to remove the patient to the ambulance the provider in the cab can call for help.
If you cannot remove the patient from the scene, one responder may be able to excuse him or herself from the room to carry bags out to the ambulance and may then have an opportunity to call. Above all, remember to maintain as safe an environment for responders, patients and bystanders as possible.
Empowering victims and providing resources
Many states have resources available for domestic violence victims. These include access to safe, secure, anonymous housing, legal support in maintaining custody of children and financial resources to assist in relocation.
The National Coalition Against Domestic Violence maintains a list of state-specific coalitions. Also, emergency departments have lists of county and local resources for victims of domestic violence and many have social workers on staff trained to assist victims.
Aside from appropriate clinical care, one of the most important roles an EMS responder can play when responding to a suspected domestic violence call is to be an advocate for the victim. Listen compassionately but don't judge or tell the victim they need to leave their abuser. Tell them that there are resources available if they doesn't feel safe in their home situation. Offer to connect them with any local groups you may know of and tell them that the hospital staff can do so as well. Most importantly, maintain a safe situation for your patient and for yourself and fellow responders.
Next Generation 911
As Next Generation 911 evolves, communications centers may see increases in callers contacting for help by methods other than a phone call. Services like this maybe provide a safer means for victims to request help, even under the guise of ordering a pizza.
On the front lines
EMS providers and other first responders often find themselves on the front line of medicine in a variety of ways. Domestic violence victims find themselves helpless to change their situation for fear of retribution or out of concern for children or other family members. As part of Domestic Violence Awareness Month, take time to orient yourself to the resources available to victims in your community and keep a high index of suspicion for scenarios that don't feel right. Trust your instincts and advocate for your patients. Above all, stay safe.
If you or someone you love is the victim of domestic violence you are not alone and there is help available. Search www.domesticshelters.org or call the National Domestic Violence Hotline at 1-800-799-7233 (SAFE).