4 lessons for EMS providers from Urban Shield
High-fidelity, full-scale exercises for SWAT and EMS at Urban Shield 2016 create a unique and memorable MCI and active shooter training experience
---
Collapsed concrete, smoke and screams greeted our triage team. Our team leader quickly surveyed the width of the rubble pile and pointed each of us to an area of the incident to begin patient triage, initiate control of life-threatening hemorrhage and manage compromised patient airways. I was directed to the furthest left side of the incident and told to work my way toward the middle of the clustered patient.
My first patient was supine and only responsive to verbal stimulus. His breathing was labored and blood was spurting from the pulsing end of his femoral artery. His right leg was fully amputated above the knee.
"Tourniquet, high and tight. Stop the bleeding," echoed in my head as I rummaged through the trauma kit around my waist.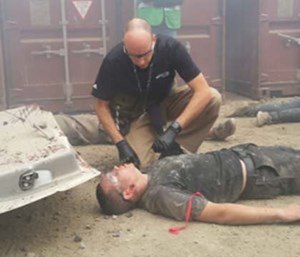 I applied a tourniquet as tight as I could around the patient's leg and the bleeding slowed. I quickly swept the patient for other injuries. It was hard to leave him, but knew that my assignment was triage, not treatment.  
Urban Shield MCI and tactical training
"Hey brother, that's a little tight," the patient whispered to me.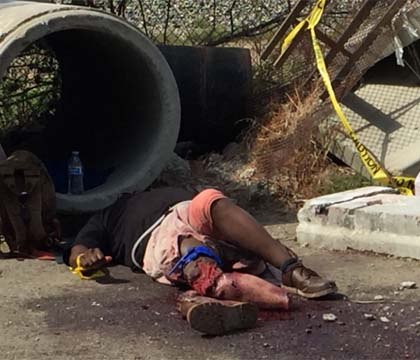 My patient, who really has a high right leg amputation, was one of more than 30 volunteers pretending to be injured in the first EMS exercise at Urban Shield 2016.
I loosened the tourniquet, called for firefighters to carry the patient to the casualty collection point and moved to the next patient. A woman, likely deafened from ear drum rupture from the explosions pressure wave, was attempting to console a catatonic, shell-shocked patient sitting in the rubble.
Urban Shield is a series of comprehensive, full-scale preparedness exercises to test the capabilities of SWAT, USAR, EMS, explosive ordinance disposal, field hospitals and other supporting agencies. During the Sept. 10-12, 2016 48-hour operational period, teams rotated through a series of exercises in and around Oakland which are planned and coordinated by the Bay Area Urban Areas Security Initiative.
My EMS Branch team started its six-hour rotation at 0600 on Sept. 11 in a dimly lit parking lot at the Alameda County Fire Department Training Division. The sprawling complex of classrooms, fire training towers and simulated disasters hosted two of the three exercises our team completed.
I had a few minutes to meet my teammates, all EMTs with the Berkeley Medical Reserve Corps, before our instructor/proctor lectured us on trauma patient assessment, triage and rapid treatment for hemorrhage and airway emergencies.
Our student to instructor pairing was perfect. The BMRC EMTs are all pre-med and our instructor, Justin Lemieux, is a Stanford Emergency Medicine clinical instructor and SWAT physician. He was eager to teach and we were just as eager to learn from him.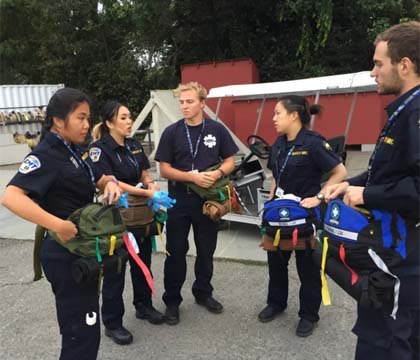 From MCI response to Rescue Task Force
We spent 40 minutes triaging and moving victims to the casualty collection point in our first exercise, the collapsed structure MCI. After we finished, we received a debrief from the exercise observers on what we did well — not much — and where we could improve — lots of areas. The debrief team's assessment was specific, helpful and challenged us to do better.
With only a few minutes to review the incident as a team, we quickly walked to our next exercise, a joint simulation with a tactical team. A briefing video quickly brought us up to speed on a group of terrorists holding hostages inside a three-story building. The terrorists were known to have an explosive device.
Our medical team listened in as the SWAT team received its briefing and asked questions about the terrorist threat and available law enforcement resources. The SWAT team leader and our medical team leader decided the medical personnel would respond as a rescue task force from an armored vehicle at the edge of the hot zone until the threat was neutralized.
For a few nervous minutes, we waited for the tactical team to make entry into the building. We tracked their progress by listening to the start of and quick end of gunfire.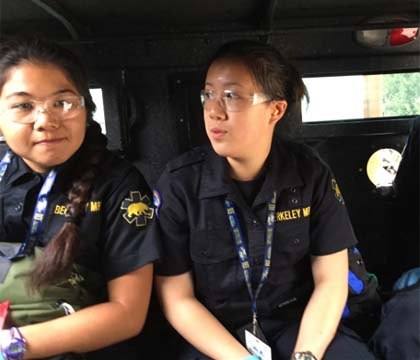 Moments later, two officers threw open the doors of the armored vehicle and instructed us to make entry through a corridor of officers to reach the injured hostages. We moved through a rolling corridor of officers while doing our best to stay in physical contact — hand on the shoulder — with one another.
On the third story of the building, we found our patients huddled in a room designated as a hasty casualty collection point. Our focus, as the rescue task force, was patient triage, treatment of life threats and rapid movement of casualties out of the building and to the armored vehicle, which we had identified as the casualty collection point. The tactical team leader quickly reassigned some of his officers to assist with bleeding control and patient movement, while the remainder provided continuing threat protection.
The exercise was over in minutes. We had made some improvements as a team completing our medical mission.
High-fidelity SWAT and EMS training
The final exercise, another joint simulation for SWAT and EMS, was at a massive shipping container storage yard. Rusting, once brightly colored shipping containers, were stacked four or five high with a few open lanes and lots of dark, narrow passages.
The scenario was dignitary protection in a four-vehicle convoy traveling to a public venue. A car for private security and a mini-van for the dignitary and his family were followed by an armored vehicle containing the tactical team and an ambulance for our medical team.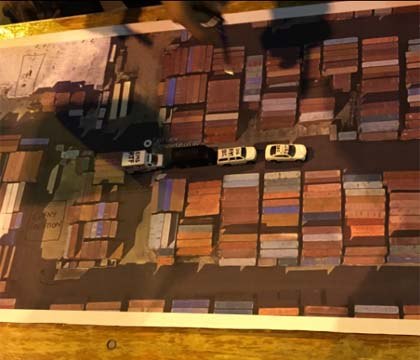 As the security car and minivan rounded a corner, BOOM! An explosion echoed through the canyons of containers.
We strained to see through the dust and smoke as the SWAT officers ran towards the explosion and eruption of gunfire. After a few minutes of nervously waiting, we were called to the incident over the radio.
A high-fidelity simulation of overturned vehicles, flames, smoke and multiple blast victims greeted us as we rounded the corner. Even though multiple attackers had been killed this was a very unstable scene and every patient was critical. Only the most minimal care was provided before patients were carried to the casualty collection point.

​Video courtesy of Jim Morrissey, Alameda County
Afterwards, Jim Morrissey, paramedic and Urban Shield planner, emphasized the two top priorities. "Tactical stops the killing. And then everyone — tactical and medical — stops the dying."
Morrissey, along with Alameda County Sheriff Gregory Ahern, emphasized the changing emphasis for SWAT once the active threat is neutralized. Not every officer needs to be pointing a rifle down range, in a security stance. Instead, some SWAT officers need to assist with hemorrhage control, patient movement and other lifesaving treatments.
This affirmed my experience just a few minutes earlier. I had looked up from a severely injured casualty and directed two officers to move the patient to the casualty collection point. They readily and willingly moved the patient so I could move to another patient.
Top takeaways from Urban Shield
Our medical team ended its day with a debrief. Lemieux went above and beyond by presenting a bonus trauma resuscitation case review.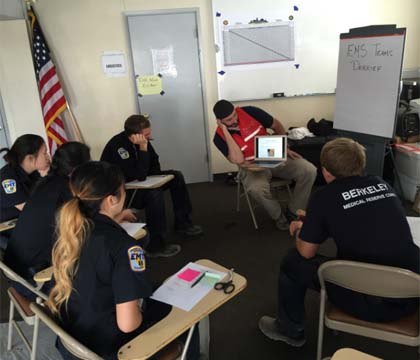 I was able to return to the container yard to watch another EMS and tactical team run the dignitary protection scenario. I also had a chance to watch a tactical team complete an active shooter and hostage rescue scenario in a massive airline hangar at the airport.
Urban Shield was an immersive, high-fidelity and full-scale training exercise for individuals and teams. For me it brought MCI response challenges to life. Here are my top takeaways from Urban Shield:
1. Sense of urgency
Everything we did had to be done with urgency. We were pushed by the proctors and observers to spend minimal time on triage, only treat true life threats and rapidly sweep patients for wounds. Other than hemorrhage control, airway positioning and attempting to seal open chest wounds additional treatments were provided in the warm zone casualty collection point, cold zone treatment areas, ambulances or at a field hospital.
Part of working with urgency is being aware of time. It is really hard to triage a patient, quickly assess for life threats and begin lifesaving treatments in less than a minute. It takes regular on-the-clock practice to be ready for this type of work. It wasn't until the third exercise that I felt like I had adjusted my internal motor to work efficiently and with a real sense of urgency.
2. Transport is a treatment
For the walking wounded, the first treatment they receive is "If you can get up and walk, go" with a specific location identified. Any other assessment or treatment is withheld until the walking wounded patient self-transports to the casualty collection point.
The other patients, especially the red tags, have injuries and illnesses that are likely time sensitive. Movement is a treatment and moving a patient towards definitive care is critical to their survival.
Movement might happen in increments. First to a casualty collection point, then to an on-scene treatment area, then into an ambulance, additional triage at the receiving hospital and finally transport into an operating room.
3. SWAT willing and able to help
The SWAT officers we were partnered with and the others I observed were eager and willing to assist with medical. Officers divided patients into injured and not injured, applied tourniquets and carried patients to casualty collection points.
If you want SWAT to help, tell them how with direct and specific instructions. Their mission is to stop the killing. Once that mission is completed they are full partners in the next mission — to stop the dying.
4. Watch and learn from others
I learned a lot by listening to my teammates, our instructor and watching other EMS teams. Our medical team leader divided the triage area into sectors and directed each of us to a sector and to triage towards the middle. A casualty collection point keeps the medical team closer to additional victims and is an intermediary step between the area of injury and the treatment area or ambulance.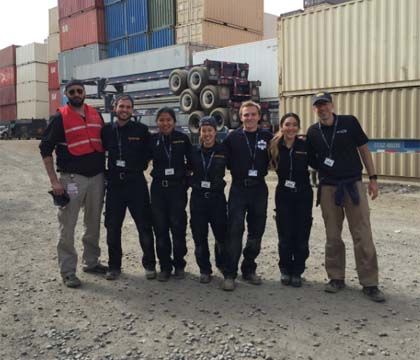 EMS Branch Team 19
Consider participating in Urban Shield 2017 or sending personnel from your agency to participate. I am sure anyone who participates is able to have a unique training experience and will bring valuable skills and knowledge back to their agency. Learn more at UrbanShield.org.